Flat Earth Northwest Passage IPA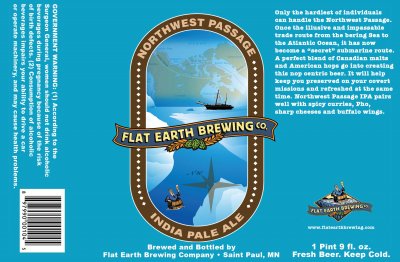 From Flat Earth Brewing –  The hoppiest IPA in the Midwest at 115 IBU! The Northwest Passage, once a virtually impassable route through Canada it has become the "secret" submarine route. Made with Canadian malts and four American hops, Northwest Passage goes well with Pho, Buffalo wings & bon fires.
Flat Earth Brewing – Flat Earth Northwest Passage IPA – 22 oz. bottle poured into a goblet. 6.5% abv. Thanks Greg/Caleb/Armin
Appearance:  Pours an amber gold with a lasting white head.
Aroma: Caramel, citrus and grass.
Taste: Soapy , citrus and bitterness.
Mouthfeel: Full bodied, modest levels of carbonation.
Overall: This isn't high on my list of IPAs. Too malty and soapy for my liking. Didn't seem like 115 IBUS when comparing to other beers touting high bitterness. I'm willing to give it another shot. I know my buddies didn't send me an old bottle though.