Dogfish Head Faithfull Ale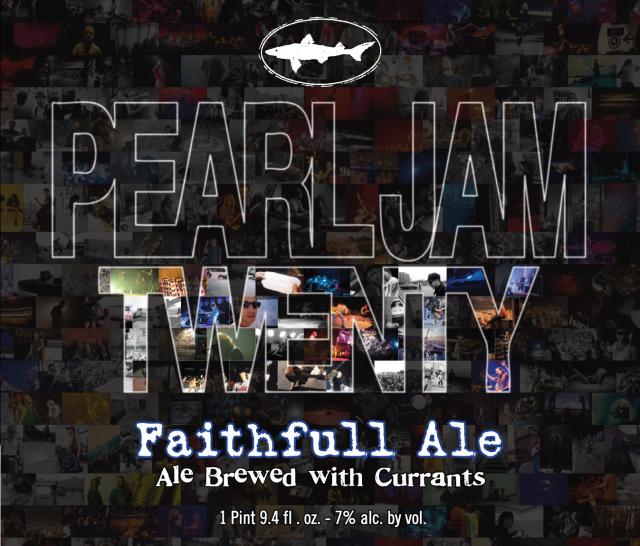 From Dogfish Head – Faithfull Ale is a celebration of Pearl Jam's 20th anniversary and their seminal album Ten – In recognition of these milestones this Belgian-style golden ale is delicately hopped to 20 IBUs and fruit-forward from 10 incremental additions of black currants over the course of the one hour boil.
Dogfish Head – Dogfish Head Faithfull Ale – 750 ml. bottle poured into a goblet. 7% abv.
Appearance: Pours a vibrant clear amber tinted gold with a lasting cap of white swirls.
Aroma:  Husky grain/wheat, white fermented grape/chanpagne/Belgian yeast like funk.
Taste: Bready, light hop spice, currant, juicy pear. Spicy yeast  A little alcohol bite in the finish.
Mouthfeel:  Full bodied, lively active carbonation.
Overall: Much like the album Ten, I went on a 53 minute and 23 second long journey with this beer.  While the beer is cold, the currants remain very subtle compared to the Belgian yeast. As it warms up, it starts to get louder and louder and makes itself known.  The huskiness reminded me of a kolch-style beer, and everything else about it was of a Belgian-Golden style ale.  If you are a Pearl Jam lover like I, drink it and save the bottle. If you have the option of saving one, make sure and drink it within the next year at the latest.