Deschutes The Abyss (Vintage 2012)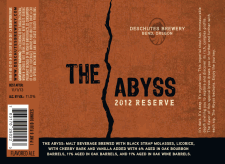 From Deschutes – A deep, dark Imperial Stout, The Abyss has almost immeasurable depth and complexity. Hints of molasses, licorice and other alluring flavors make it something not just to quaff, but contemplate. As for the great "drink it now or let it age" debate, we stand clearly on the fence. Distinct and delicious on release, the flavors meld and fuse into an entirely different pleasure a year on.
Deschutes Brewery – Deschutes The Abyss 2012 Enjoyed near release – 22 oz. bottle poured into a goblet 11% abv.
Appearance:  Pours a dark brown with a nice tan cap of rocky froth.
Aroma:  Big oaky bourbon, dark chocolate.
Taste:  Dark chocolate, tons of oak and char, bourbon, dark fruit. A little berry twang. Finishs with a long burnt roast finish.
Mouthfeel:  Spicy lively carbonation. Full bodied, not syrupy or overly thick. Roasty coating.
Overall: This is one big effin beer.  Very delicious, complex and bold as can be.  As for the great debate mentioned in the product description, drink it fresh or sit on it for a year:  I say both.  I'll admit, this beer was a big sharp and and very hot, but still yummy and gives you a reference point for earlier vintages.  A minium of a year will knock down the heat and sharp barrel and burnt roast character and make way for some true decadence.