Stone 12.12.12 Vertical Epic Ale – The Review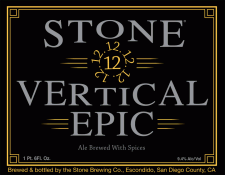 From Stone – Brewed with cinnamon, allspice, nutmeg, clove, orange peel and rosehips (which turned out to be so sturdy we had to roll over them with a forklift to pulverize them for the brew), it's a complex beer with many layers. The spices come on strong along with a nice bready malt character. That said, Stone 12.12.12 Vertical Epic Ale is rather dry on the finish, making it a beer that should do a great job as the last beer in the rotation at fans' Vertical Epic tastings.
Stone Brewing Co. – Stone 12.12.12 Vertical Epic Ale – 22 oz. bottle poured into a goblet. 9% abv.
Appearance:  Pours a think dark brown with a creamy, rocky tan head.
Aroma:  Cinnamon raisin toast, nutmeg, cocoa powder, fig.
Taste: Nutmeg first and formost, dates, vanilla, chocolate, cinnamon. Definitely captures the holiday.
Mouthfeel:  Full bodied, smooth textured, moderate carbonation.
Overall:  A great ending to a crazy journey.  I'm not sure if their is a correlation, but my favorites have been 06, 09 and 12, all three have been big and malty.  This would be a huge hit at any holiday party you go to, so snag up a few bottles.  I imagine this aging gracefully, and interestingly enough, better than some of the lighter bodied beers in this series , that probably should been brewed as big as this beer was. I'm not a brewer or visionary, so what do I know. Anyway, well done.