Bear Republic ⁄ Fat Head's ⁄ Stone TBA (Texas Brown Ale)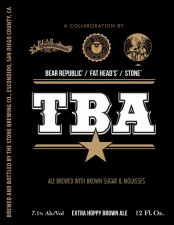 From Stone – Nothing says Christmas like hanging out with good friends and brewing up something special.   Thanks to Matt Cole from Fat Heads and Richard (Ricardo) Norgrove from Bear Republic for braving pre-holiday travel to come to Stone then week before Christmas holiday and brew this "sort of" old-school American  (or Texas) brown ale.  The recipe we came up with has a host of specialty malts, molasses, brown sugar, Columbus, Bravo, Brewers' Gold, and for the first time at Stone, Cascade Hops!  We're hoping our brew brings back fond memories of the earliest classic craft brews.  Enjoy your trip down memory lane!
Stone Brewing Co. – Bear Republic ⁄ Fat Head's ⁄ Stone TBA (Texas Brown Ale) – On tap at 38 Degrees Alehouse – Poured into a pint glass – 7.1% abv.
Appearance:  Pours a dark amber with a dense creamy head. Leaves gorgeous lacing.
Aroma: Amarillo-ish dry hopping. Faint toasty nutty malt burried beneath the hop aroma. A little bit of Armor all.
Taste: Starts off with a hoppy punch. Mildly toasty malt. Grapefruit. Earthy.  Finishes bitter, but doesn't linger or crush the palate. Alcohol well hidden. Tasty.
Mouthfeel:  Thin side of medium, very drinkable with moderate carbonation.
Overall:  Based on the videos and story behind this beer, I wasn't to expect this to be a typical American Brown Ale. With that said, with the exception of the color, it had no resemblance to a brown ale. It wasn't nutty or particularly toasty. The hop presence was the dominating focus on the nose and palate. If the last collaboration was 'More Brown than Black', this beer is 'More Amber than Brown.'