AleSmith Mokasida Speedway Stout
Product description:  Taking its name from both Mokha, the historical port city for the distribution of African coffees, and the Sidamo province in Ethiopia, Mokasida is a regional blend of coffees that showcases the subtle characteristics of East African beans.  When paired with the chocolate and roast character of our Imperial Stout, Mokasida imparts notes of cocoa, blueberry, and sweet potatoes to make a truly unique beer.
Also from East Africa are The Lost Boys of Sudan, a group of civil war refugees from various villages that overcame extraordinary peril during their flight from persecution.  AleSmith Brewing Company proudly employs members of The Lost Boys of Sudan and supports The California Lost Boys and Girls Foundation (CLBGF).  A portion of proceeds from the sale of bottles of this beer will go towards CLBGF.
 
"As one of the lost boys from South Sudan, I feel fortunate to be part of this awesome company…Their donations will aid us in education and family emergencies.  Thank you to AleSmith…" – Alephonsion Deng (AleSmith Employee and Lost Boy of Sudan)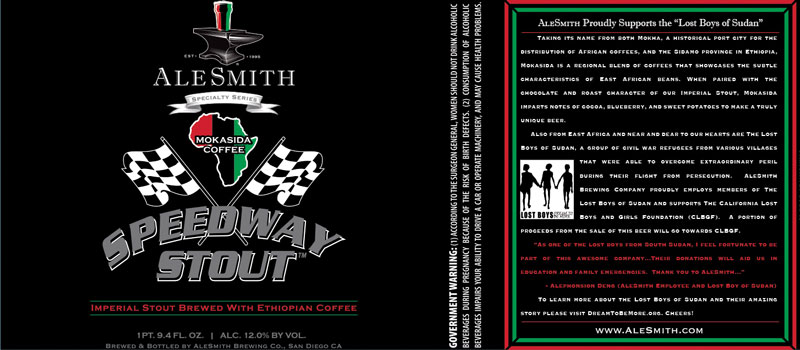 AleSmith Brewing – AleSmith Mokasida Speedway Stout – 750 ml. bottle poured into specialty glassware. 12% abv.

We shared this 750mL special release bottle at Thanksgiving. Previously, I had a chance to sample this on tap at AleSmith during San Diego Beer Week.
My notes from that event were straightforward. This Speedway version was well-integrated between spicy, assertive coffee and dense, rich dark chocolate. It was very drinkable and not too intense, especially compared with the other special versions available at the Speedway Grand Prix event. With that said, it did not make a major impression. Other versions sampled that day were more memorable in both good and bad ways. (The barrel-aged Kona Coffee Speedway, for instance, stole the show in my eyes while the Liquid Smoke version was the least palatable.)
I had similar thoughts from this bottled version. I'd be lying if I said the new Ethiopian coffee blend used in this version really hit the spot and brought this beer to a new level. If anything, this version is perfectly average for Speedway being neither an improvement nor detriment to the base beer.
In typical Speedway fashion, this beer is ink black in the glass with healthy carbonation and generous brown foam. The aroma isn't as coffee forward as the tap version, which I've found is pretty consistent with coffee beers in general. Burnt sugar, raisins, and black olive are more dominant here.
The flavor is nicely bitter and the body is wickedly thick with a hefty backbone of waxy dark chocolate. There is a touch of sugar and raisin, but overall this is predictably well-balanced. With that said, there isn't anything here to highlight a novel coffee addition in the aroma or flavor.
Our group enjoyed this one thoroughly. For me, however, I fail to see the appeal of this version besides that it supports a charity, The Lost Boys of Sudan.