Modern Times Blam! Blam!
Product description: Our latest canned special release is a 16-ounce mouth party of unrivaled proportions. Packed with Nelson, Amarillo, and whole-cone Denali hops, this breathtaking beverage sports an explosively aromatic profile bursting with layers of lush, hoppy fruit.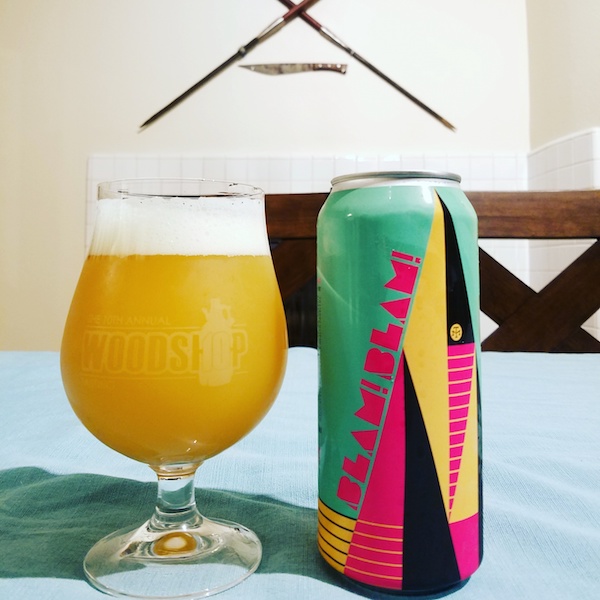 Modern Times Beer – Modern Times Blam! Blam! – 16 oz. can poured into a tulip – 7% abv.
I scored a 4-pack of this at the brewery this past weekend. At over $20, this is about twice the price of their other hoppy beers and is also not distributed to retail outlets, which must mark a first for bottled or canned IPAs in San Diego County. I was a bit skeptical of this special release system they have put in place, but at least it allows Modern Times to have complete control over the beer's freshness and refrigeration. This system seems to have worked well for high-caliber breweries in the Northeast.
Blam! Blam! marks the fourth in a series of special release hazy IPAs from Modern Times. Previously, I have tried only tap versions of these beers (Underworld Dreams, Mage Hand, and Attack Frequency). And for the most part, I have enjoyed all of them. So, I was excited to try this latest creation.
I sampled this as a 16oz can packaged 4 days before. The beer is aesthetically beautiful: opaque, glowing pineapple juice in color with thick, creamy foam that persists. The aroma isn't as powerful as others from this series, but it is still certainly assertive. There is ripe cantaloupe, pineapple juice, lemon balm, and a lot of cucumber. Nuanced tropical hop aromas seem to be lost.
In flavor, this one is a bit muddled with the heavy yeast content in suspension giving it a chalky mouthfeel. The word that keeps coming to mind is "green" as in a bit too planty or grassy with touches of honeydew melon rind and cucumber peel. Bitterness hits quickly and aggressively, but then in mid-palate and finish it drops out ridiculously quick. There is pretty much no aftertaste. The body is quite dry as well giving it a lighter mouthfeel perhaps on par with something like Fortunate Islands. The 7% ABV is unnoticed and the beer is certainly crushable. This is a nice departure from caramel-focused, chewy, super resinous IPAs that are the norm here. There is also a nice sparkling, tongue-tingling sensation to the mouthfeel as if drinking kefir or active yeast. Perhaps a touch of sugar to the body would allow the better release of certain flavors.
Overall, this was certainly fun to try. It is a nice step forward in the right direction pushing for a more drinkable, lighter-bodied, and aroma hop-focused IPA. Though it didn't seem as perfected as others in this series thus far, I'm glad that Modern Times continues to experiment and push craft beer in the area to the next level.