New Belgium Accumulation White IPA
Product description – This winter, IBUs start accumulating like snow in Colorado with our new Accumulation White IPA . Brewing a white IPA was not only a way to salute the white beauty falling from the sky, but a direct revolt to the longstanding tradition of brewing dark beers for winter and winter seasonal beers . At least that's what our rebellious brewer Grady Hull likes to claim as he shovels in plenty of new hop varietals and a bit of wheat for a smooth mouthfeel. Stack up a few cases of Accumulation White IPA to keep your long nights glowing blizzard white.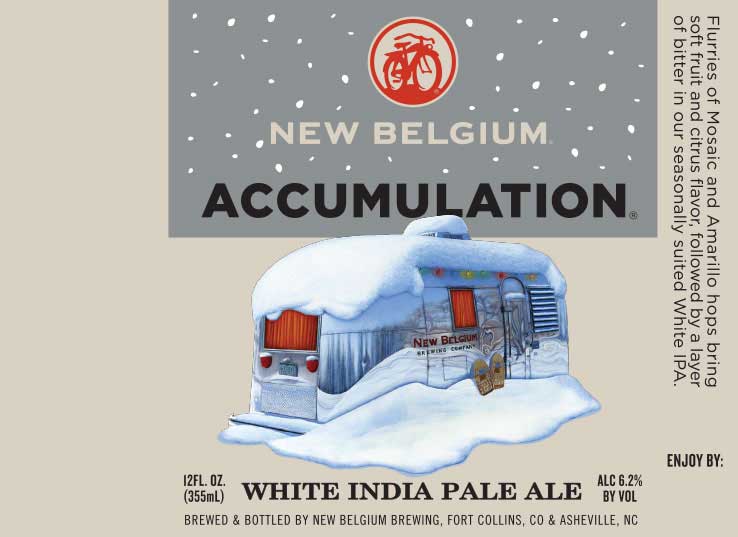 New Belgium Brewing – New Belgium Accumulation White IPA – 12 oz. bottle poured into specialty glassware – 6.2% abv.
I reviewed this from a 12oz bottle, enjoy by date 3/19/2017. This beer is crystal clear straw in color generating a healthy, white head of foam when pouring. There is impressive head retention as well. The aroma begins with sweet lemon cookies, lemon meringue pie, and some soft, fleeting hop aromas that are sticky like lemon drop candies. The flavor is dry and more of an understated blonde ale with Belgian yeast character than a "white IPA." Higher carbonation is appreciated and adds to its overall refreshment. The finish is a tad bland and soapy, but overall the beer is sharp, simple and very drinkable, though not easily identified as a white ale given its clarity and dryness. Bitterness is low and balanced, which doesn't make me think IPA either. Still, this is quite good especially when thinking about it as a session blonde. No yeast sediment at the bottom of the bottle is nice. This one I would recommend trying.