World Cup,Casks and Pliny The Elder at O'Brien's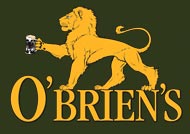 The craziness of the World Cup has subsided for a day or two as we get our first break with no games since June 11th.  The madness will resume on Friday, July 2nd and Saturday July 3rd with games at 7 am and 11:30 am each day.
Friday we get Netherlands v. Brazil at 7 am and Uruguay v. Ghana at 11:30 am.  Saturday its Germany v. Argentina at 7 am and Spain v. Paraguay at 11:30 am.  The pub will be open at 6:45 am both days with coffee, OJ and light breakfast fare.  Beer, Champagne and Mimosas start at halftime – 8 am.  Look for the regular food menu to start up shortly after the morning games.
At the Pub
Thursday the 1st we tap a cask of Hanger 24 Double IPA.  This was one of my favorite beers at the Real Ale Festival and I am really looking forward to having a pint of it.  We'll tap it at 5 pm and all of our local beers will be on special.  Russian River Pliny the Elder is expecte to be back on tap sometime Thursday night, hopefully by 7 pm.  We just tapped a fresh keg of Port Brewing Mongo IPA and the massive 4th Anniversary IPA will be back on tap soon.  Ale Smith Wee Heavy is also new on the tap list.
We will be open until Midnight on both Friday the 2nd and Saturday the 3rd.  The pub will be CLOSED Sunday July 4th for Independence Day.  We will have normal hours on Monday the 5th from 11 am until 10:30 pm with our great pitcher special ($10 crafts/locals) in effect from 4:30 pm until closing time.  Between now and Thanksgiving, Labor Day is the only day we will be closed.  So enjoy the holiday and make sure to buy some great San Diego beer for your holiday weekend.
More World Cup
Next week we get the two semi-final match ups on Tuesday the 6th and Wednesday the 7th, both games at 11:30 am.  No matter who gets through, these will be great match ups.  It certainly seems to be a great World Cup for South America so far.  It will be interesting to see if those teams can keep up the momentum.  The thrid place mathc will be Saturday the 10th at 11:30 am and the final will be on Sunday the 11th at 11:30 am.  We will be opening up early for the final, just not sure when yet.
The USA is bidding to host either the 2018 or 2022 World Cup and San Diego is one of the 18 final cities in the bid.  It is likely that only 12-14 cities will end up hosting games.  Each host city would have 4-6 games – it is estimated that each World Cup match would have the local economic impact as a Superbowl.  Please support San Diego's efforts to become a host city by signing the bid petition.  Most of the other 17 cities are way ahead of us.  You can sign on the O'Brien's home page – www.obrienspub.net, the Go USA Bid page – http://www.gousabid.com/city/local/san-diego-ca/ or the San Diego Flash homepage – http://sandiegoflashsoccer.com/SDSoccer/default.cfm.  Please support San Diego and help get the word out!
Looking Ahead
Next week we will have a cask of Coronado Idiot IPA on Thursday the 8th at 5 pm.  Friday the 9th will be New Belgium Brewing Night with a new Belgian-IPA along with Ranger IPA and Eric's Ale (sour peach).  Thursday the 15th we get a double shot of great hoppy casks from Port Brewing – 4th Anniversary and Wipeout IPA.  Friday the 16th we will have some beers from Airdale Brewing Company including Dark and Stormy Imperial Stout.
Our local beer writer, Peter Rowe at the Union-Tribune, now has a blog on the internet.  In addition to the bi-weekly Brewery Rowe Pint Sized Pour, Pete has additional stories and updates as well as news on what is happening in the San Diego beer scene each weekend.  The paper is sizing up which blogs will stick around and we certainly want to make sure that the beer blog is one of them.  Please support the Brewery Rowe blog by visiting it and checking it out.  You can read the story of how the American Homebrewers Association voted Pliny the Elder the best commercial beer in America for a second straight year.  Find it at: http://www.signonsandiego.com/weblogs/brewery-rowe/.  If you can link to it on a website or a Facebook page, that too would help.  Please visit the site and spread the word to help make sure that the San Diego beer scene stays in the mainstream media.
That is your good beer news for now.  We'll see you soon for a great beer. Cheers, Tom
Here are the upcoming World Cup matches:
Friday, 7/2: Pub Open at 6:45
7 am – Netherlands v. Brazil
11:30 am – Uruguay v. Ghana
Saturday, 7/3: Pub Open at 6:45
7 am – Argentina v. Germany
11:30 am – Spain v. Paraguay
Tuesday, 7/6: Semi-Final
11:30 am – winner of Neth/Brazil v. winner Uru/Ghana
Wednesday, 7/7: Semi-Final
11:30 am – winner of Arg/Ger v. winner Spain/Paraguay
Saturday, 7/10:
Third Place Match at 11:30 am
Sunday, 7/11: We will open early, but time TBD
World Cup Final at 11:30 am
Tom Nickel
O'Brien's Pub
20 Taps – Tons of Hops
Official U.S. Soccer Bar
4646 Convoy Street
www.obrienspub.net