Upland Set To Release Gilgamesh Sour Ale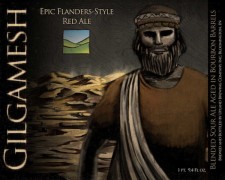 Upland's latest adventure into the world of sour brewing, Gilgamesh, is a beer fit for the legendary king of Uruk himself. This Flanders Red style beer is our strongest sour ale, at 10.5% ABV, and possesses a fruity Belgian yeast character, creamy mouthfeel contributed by flaked maize, tart highlights produced by wild microorganisms, and hints of oak texture from slightly neutral bourbon barrel aging.
Just after it was bottled, Gilgamesh won the gold medal in its category and runner up for Best in Show at Chicago's Festival of Wood and Barrel Aged Beers in November 2011.
Are you strong enough to join Gilgamesh on its epic journey?
You'll get your chance to find out soon enough. Reserve up to four bottles of Gilgamesh at http://gilgamesh.eventbrite.com starting at noon (Eastern Time) on January 25th. Each bottle is $25 plus tax, and it will be available for pickup at Upland's Bloomington Brew Pub or Indy Tasting from February 1st through February 22nd. A friend may pick up your order for you if he has a photocopy of your ID, but we hope you'll join us for a pint yourself.
About Upland's Sour Ale Program
Head Brewer Caleb Staton began brewing sours in 2006 as an experiment with only four oak barrels. Today Upland makes eleven sour ales: eight fruited lambics, an experimental sour we call Dantalion Dark Wild Ale, a gueuze-style ale called Sour Reserve, and now, Gilgamesh. Our brewing methods are founded in the Belgian tradition and our sours are aged in oak for over a year—sometimes much longer—before being bottle conditioned. These specialty beers are made in small batches and are available in limited quantities.