Epic Brewing and Crooked Stave Release Collaboration Elder Brett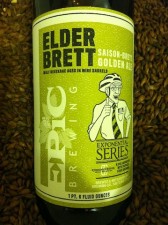 Epic Brewing Company Releases New Collaboration beer with Crooked Stave Brewing Company of Fort Collins, Colorado
Salt Lake City, Utah—Epic Brewing Company's latest barrel-aged beer brings something new—wild yeast. This brew is a collaboration ale with Crooked Stave Artisan Brewing of Fort Collins, Colorado.  Chad Yakobson, Brewmaster/Owner of Crooked Stave, is well known for his skill and knowledge in the brewing of sour and Brettanomyces driven beers.  The beer was brewed at Epic by the two brewers. Kevin Crompton, Epic's Brewmaster, and Chad spent several weeks working on the recipe and selecting the proper Brett strains and barrels for the beer to morph from a golden Sasion into a Saison-Brett Golden Ale.
Primary fermentation was accomplished using Saison yeast and then the young beer was moved to French oak white wine casks retired after the production of Epic's 2011 Great American Beer Festival (GABF), Silver Medal winner, Brainless® on Peaches.  The barrels were inoculated with a blend of four different types of Brettanomyces.  Aging for over nine months in the barrels allows the character of the unique wild yeast to fully express itself in the beer.  The result combines all the elements for a truly sublime complexity.  The aroma is rich with the musty, barnyard-like character that "Brett" is famous for as well as some remnants of the white wine.  The flavor also has wonderful amounts of fruity notes both from the yeast and hints of the peach fermentation that took place previously in the barrel, all rounded out with a pleasant and refreshing acidity and incredible drinkability for an 8.8% ABV beverage.  The beer has a round body, is dominated by yeast character, but is tart enough to leave the palette refreshed and wanting more.
Release #1, brewed June 2011, only produced 3600 bottles.  Very limited amounts can be found in every State that Epic Brewing Company has distribution, with a special amount available in the Fort Collins/Boulder area at such fine retailers as Wilber's Total Beverage, Supermarket Liquor, 287 Discount Liquor (all Fort Collins) and Liquor Mart in Boulder.  Twenty-two ounce bottles will be available in Epic Brewing's cold case on January 26 and should hit other states sometime in February.
Epic Brewing Company was founded in 2010 in Salt Lake City and is known for its passion for brewing boutique, full strength, real Ales and Lagers; three GABF medals and a dozen other awarded brews. Epic is distributed in the following States: Utah, Colorado, Oregon, Arizona, Idaho, Ohio, Virginia & DC, New Jersey, Minnesota, North Carolina, and Michigan.
Crooked Stave was founded in Denver, Colorado in late 2010 as an Artisan Beer Project. Known for their unorthodox use of Brettanomyces yeast, these progressive, artisan beers are a blend of brewing science and art, driven by creativity and passion. In 2011, DRAFT magazine named Crooked Stave's Wild Wild Brett "Rouge" one of the Top 25 Beers of the Year. Currently brewing their beers in Fort Collins, Colorado Crooked Stave is working on plans to build their own brewery in Denver.