Lost Abbey Releases First Track of Ultimate Box Set This Saturday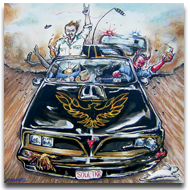 Lost Abbey to Release First Track of Ultimate Box Set Saturday January 21, 2012.
From Lost Abbey:
This Saturday, January 21, 2012 will mark the release of the first track in our ultimate Box Set, kicking off a year-long series of super-limited beer releases inspired by those great anthem rock tunes of our youth. (Feel free to wave your lighters in the air… for you younger kids that's what we waved at the concert before cell phones with big screens.)
Of course, there is a ton more info by following this link below, we had a hearty chuckle at this part:
Side note: because of some labeling "issues" with Track 1 (we'll let you guess what they were), this release has a special label that will appear only on this version of the brew. The Full Box Set release of Track 1 will have a different label in line with the others.
Bunch of trouble makers. Gosh!
CLICK HERE FOR ENTIRE POST FROM LOSTABBEY.COM