Details on Deschutes New Chainbreaker White IPA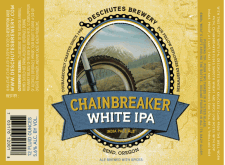 Deschutes releases a new beer to their lineup, but first in their home market. Here is the initial info we've gathered on Chainbreaker IPA. Cheers, TFP
"We are planning to release in just Washington and Oregon region in March/April timeframe, followed by a wider release to the rest of our distribution area."
Here's a sneak peak at the upcoming press release, that outlines even more info:
BLACK Butte Porter, RED Chair Northwest Pale Ale, GREEN Lakes Amber….why not a WHITE IPA?
Deschutes Brewery captures the collective imagination as it ventures yet again into uncharted territory with the debut of Chainbreaker White IPA!  Exploring the intersection between wheat and hops has yielded a gallantly hop-forward, citrus-packed brew with unmistakably smooth character.
Chainbreaker White IPA draws inspiration and its name from the legendary mountain bike race in Central Oregon – the Cascade Chainbreaker.  Racers risk ego, and their personal redline, navigating a demanding course with multiple terrains.  Their reward….untouched single-track and incomparable views of the undeveloped Skyline Forest just west of Bend, Oregon.
Chainbreaker White IPA subdues the palate with serious hop business – Bravo, Citra, Centennial, and Cascade hops instigate a juicy electric current.  This not-so-subtle introduction paves the way for the heart and soul malt profile, including Pilsner malt, malted and unmalted wheat, and a few flaked oats.  Sweet orange peel and coriander gems circulate the space between seemingly fresh-squeezed, spicy citrus and wheat subtlety.
Wheat and hops unite!
Vital Stats:  Chainbreaker White IPA
5.8 % ABV
60 IBU's
Malt Profile: 
Pilsner Malt
Malted Wheat
Unmalted Wheat
Flaked Oats
Hop Profile: 
Bravo
Citra
Centennial
Cascade
Other Items of Note:  Ground Sweet Orange Peel Milled Coriander
Available in six-packs, twelve-packs, and on draft wherever Deschutes Brewery beers are distributed