Upland Brewing Will Have 6 Beers + Sour Ale Expo at GABF 2014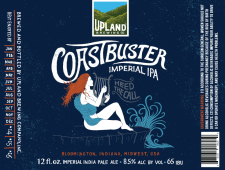 Those who have been interested to try Upland Brewing's famous Sour Ales might want to read on. They will be bringing a solid lineup of beers and will be presenting 10 sour ales at the Brewers Studio Pavilion Thursday evening.  Stay tuned as we bring you the inside info on this year's Great American Beer Festival.
Upland Brewing will be pouring the following beers at the 2014 GABF:
Coastbuster Imperial IPA ABV: 8.5
Oktoberfest: Bavarian Lager ABV:6.7
Campside: Session IPA ABV: 4.5
Champagne Velvet: Pre-Prohibition Pilsner ABV: 5.5
Wheat Ale: Belgian Wit ABV: 4.7
Pro-Am Entry: Good Miss Mosaic: American Wheat Ale ABV: 5.3
Thursday, October 2 from 6:30-7:00pm
Brewers Studio Pavilion at the GABF
An Exploration into Sour Ales with Upland Brewing Company
Join Indiana's Upland Brewing Company for a discussion on the history of the sour ale and its gaining popularity. Sour ales developed in the Senne Valley of Belgium over 500 years ago and Upland takes a historical approach to the creation of their wild ales. With over 10 different sour ales in their arsenal, they will be showcasing four of these highly prized sours.
FIND OUT WHAT OTHER PEOPLE ARE POURING AND ENTERING IN FOR JUDGING AT THIS YEARS GABF!!