Upland Brewing Harvest Ale & Teddy Bear Kisses Returns
(BLOOMINGTON, IND) —Upland Brewing Company welcomes the changing season with two specialty favorites—Harvest Ale and Teddy Bear Kisses. Both are now available, just in time for campouts and post-pumpkin carving sipping.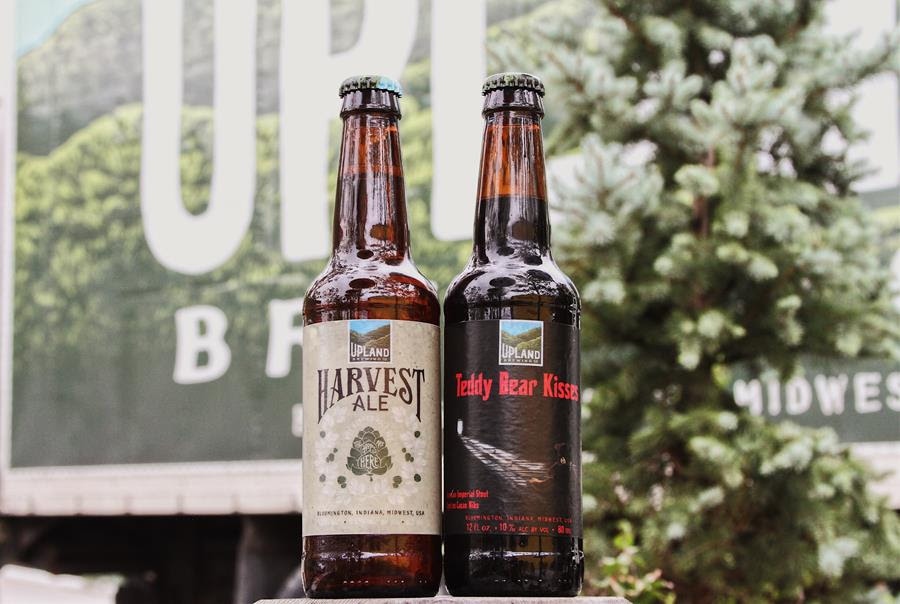 Harvest Ale is wet-hopped with fresh, whole Citra hops from Yakima, Washington. The hops are harvested and shipped overnight, going from bine to hopback in 48 hours. This ale is also dry-hopped with Centennial, Simcoe, and Citra pellets. The fresh hops create a bright, fragrant, and unmistakably citrusy character to this one of a kind beer. The fresh ingredients call for enjoyment soon after bottling. Upland released another draught-only version of Harvest Ale in their pubs in mid-September, brewed with hops from White River Hop Farm in Jasper, IN, which they harvested and added to the beer within six hours.
"We can only brew this once a year, so we really look forward to September. Freshly picked hops will spoil quickly; they must either be used within days or else dried for use later in the year. By using these "wet hops" before they are dried, we can extract the maximum oil content from the hop cone, ensuring a fresh and vibrant hop character," said Lead Brewer Patrick Lynch.
Teddy Bear Kisses, Upland's Russian Imperial Stout, also returned this fall. Although the legend of the name is still in question, there is no question of its popularity. This stout is aged on fair trade cocoa nibs, creating a burst of dark chocolate aromas. Additions of caramel malts and molasses create slightly sweet, bold dark flavors with hints of fruit. The richness of flavor is brought to a dry coffee-like finish with balanced bitterness and an expressive roast character.
"Contrary to the thought of gentle kisses from a teddy bear, this is one of our boldest and strongest beers, with an ABV of 10%. The label is pretty creepy, too," said Lynch. "Teddy Bear Kisses will make you feel warm and happy, but it's not your childhood cuddle toy."
Fans of Teddy Bear Kisses can also enjoy variants of the stout in Upland's experimental, draught-only Side Trail Series. Three different batches of bourbon barrel-aged Teddy Bear Kisses will be released, including one brewed with toasted coconut and another with locally roasted coffee.
Harvest Ale and Teddy Bear Kisses are available in Upland's distribution areas in limited quantities. Find both specialty beers in 4 packs of 12 ounce bottles and on draught at select accounts.
About Upland Brewing Co.
Located in Bloomington, Indiana, Upland Brewing Co. has an intriguing brewing story that dates back to 1998. Our mission is to brew remarkable beers in remarkable ways, staying true to the artisan, progressive spirit found in our part of the Midwest. Upland is currently the third largest brewery in Indiana and brews more than 50 different styles of beer annually.