Saint Arnold Wins Midsize Brewing Company & Brewer of the Year Award at GABF
(Houston, TX) – Saint Arnold Brewing Co. won three medals for their delicious craft beers at Great American Beer Festival (GABF) earlier today. Those three medals combined secured the Midsize Brewing Company and Brewer of the Year award for Texas' oldest craft brewery.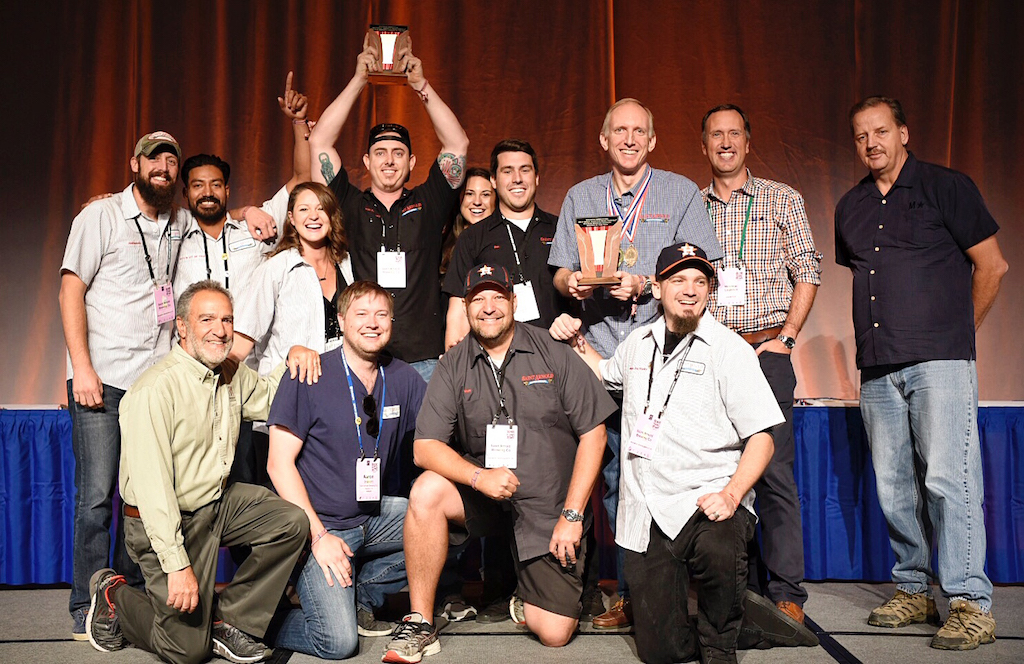 The Midsize Brewing Company and Brewer of the Year award is given by the Brewers Association to a brewery that brews between 15,000 – 6,000,000 barrels in a year. This is the first time Saint Arnold has received the award at the highly respected competition.
"We have had an incredible year with new releases and increased sales," said Brock Wagner, Owner and Founder of Saint Arnold. "Taking home the Midsize Brewing Company and Brewer of the Year award is an extremely gratifying moment for our entire brew crew."
Saint Arnold took home the gold medal for Pumpkinator in the Pumpkin/Squash or Pumpkin Spice Beer category, a first at this competition for this brew. Bronze medals were awarded to Amber Ale in the Original or Special Bitter and Weedwacker in the German Style Wheat Ale categories, respectively. This is the third GABF medal for Amber Ale and fourth for Weedwacker.
This year's award haul brings the total number of GABF medals for Saint Arnold to 24, the most of any brewery in Texas. This is a great accomplishment in a year where the festival had 7,923 entries from 2,217 U.S. breweries, the most they have ever received.
About Saint Arnold Brewing Company
Saint Arnold Brewing's 11 year-round beers, seven seasonals and three special series – Divine Reserve, Icon and Bishop's Barrel – are made and sold by the company's staff of 80 dedicated employees. Saint Arnold beers have won 24 medals at the Great American Beer Festival. The brewery on the north side of downtown Houston was listed by Thrillist among the best breweries in America for eating, and Smart Meetings magazine named it among the top breweries to host an event. Saint Arnold is located at 2000 Lyons Avenue and its beer hall opens at 11 A.M. Monday through Saturday.
www.saintarnold.com – @SaintArnold – Facebook