Twisted Pine Gets Fresh With Lupuliopheliac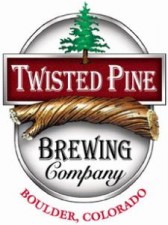 Twisted Pine Gets Fresh with Lupuliopheliac – Number 10 in Artisan Ale Project released Oct. 6th
Boulder, Colorado – Fresh is a very popular theme these days.  Fresh produce, fresh beer, fresh ideas, fresh mouths, Fresh Prince of Bel-Air (okay, so that last one is a little stale, but still pretty entertaining).  None of these are currently trending harder than fresh-hopped beer, and for good reason… the flavor!  The tenth installment in Twisted Pine Brewing Company's Artisan Ale Project, an aromatic wonder named Lupuliopheliac, is as fresh as they come.
Lupuliopheliac is an uber-fresh hopped India Pale Ale with loads of character.  Lead brewer Henry Jager was given free rein to get reckless with hop additions and, armed with fresh Cascade from nearby Niwot Hops (about an hour and a half from vine to kettle), succeeded in exercising a complete lack of self-restraint in crafting this darling harvest beer.  In addition to Cascade, the kettle was dosed with Chinook, Centennial, Simcoe and Amarillo hops.  The fun did not end there, as more fresh Cascade, along with Citra and Amarillo, were used to dry-hop this animal of an ale.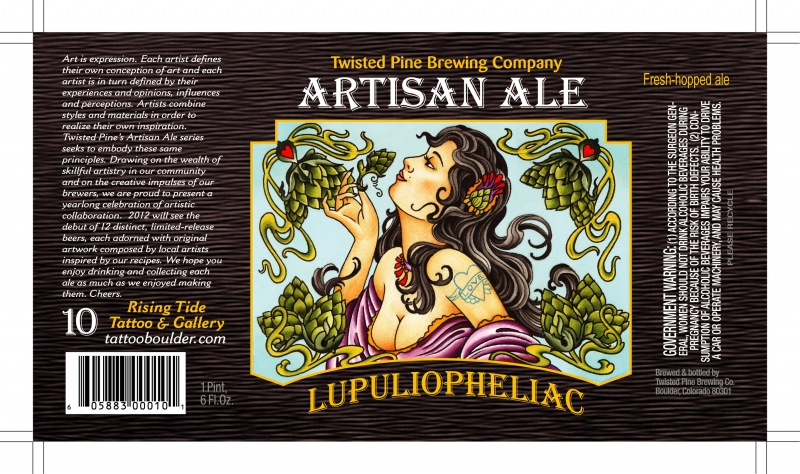 Lupuliopheliac shows bright and tawny with a stable, white head.  Citrus and pine aromas float towards the nose at first whiff, followed by sweet, earthy malt.  A great example of balance in brewing, this palette-pleaser represents the harmony between hops and malt that can be achieved by a well-crafted American IPA.  At 52 IBU, the beer is not overly bitter for the style but just enough so that the finish lingers on the back of the tongue, prompting another sip.  The 8% ABV is reason enough to sip slowly, although the flavor compels one to gulp this golden-hued ale.
The release party will be held at the newly-expanded Twisted Pine Ale House on Saturday, October 6th from 12-9.  Lupuliopheliac's label features a painting by the duo of Darren Hall and Phill Bartell from Rising Tide Tattoo & Gallery, the brewery's next-door neighbor.  Artwork by Hall and Bartell, as well as other representatives of Rising Tide, will be displayed on the walls of the tap room starting Saturday and remaining throughout the month of October.  The artists will also be on hand to discuss their work and sign bottles for collectors for much of the afternoon.  750 ml, wax-dipped bottles will be available at the brewery and a few, select local establishments while kegs will be poured exclusively at Twisted Pine.
About Twisted Pine Brewing
Based in Boulder, Colorado Twisted Pine Brewing Company has been handcrafting beer since 1995.  They are the brewers of such favorites as "Hoppy Boy IPA," "Raspberry Wheat Ale" and "Billy's Chilies."  The Ale House is a very popular local hangout and boasts 17 taps, 5 rotating.  Twisted Pine is active with local charitable organizations and a strong believer in sustainable business practices.   You can find more information at www.twistedpinebrewing.com – @TwistedPine – Facebook