SanTan Brewing Introduces Rail Slide Imperial Spiced Ale: AZ's 1st Seasonal Canned Beer Series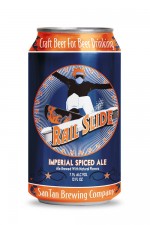 Chandler, Arizona – SanTan Brewing Company, Arizona's fastest growing brewery and leader of the Arizona canned craft beer revolution is gearing up to launch an exciting new CanVenture: Arizona's first ever seasonal canned beer series!
Until now, SanTan Brewing's lineup of seasonal brews have been available only on tap at participating restaurants, pubs and breweries throughout Arizona. So, with the help of Rexam, a local aluminum can manufacturer and leader in global beverage canning, SanTan is now in full production and ready to launch their seasonal canned beer series.
The first seasonal brew to see the inside of a mini keg will be SanTan's newest seasonal, Rail Slide Imperial Spiced Ale. Rail Slide is brewed with winter flavors that add an edge to this smooth, spiced ale. This seasonal reflects the adventurous efforts that have come to symbolize the American craft beer movement and celebrates the constant innovation that evolve our very pallet. Rail Slide boasts a bold 8.1% ABV and will be available in cans and on tap November 1st.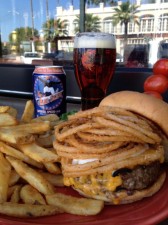 SanTan seasonal brews are created to reflect the Brewery's mission of pairing craft beer with craft food which is why Rail Slide is spiced to compliment the comfort foods of winter while offering an overall new culinary experience.
"Our seasonal brews are in high demand so we've decided its high time we made them as available as our core brews," said Anthony Canecchia, owner and head brewmaster of SanTan Brewing Company. "Now, our fans will be able to take their favorite SanTan seasonal along on their next CanVenture."
But why can at all? SanTan Brewing Company has been preaching the benefits of canning since they launched into distribution two years ago and currently cans their four core brews; Devil's Ale, HefeWeizen Wheat, Epicenter Amber Ale and Hop Shock I.P.A.
As made evident by the 2nd annual and wildly successful Ameri-CAN Canned Craft Beer Festival, the can is here to stay for many reasons, including the portability factor and that they are environmentally friendly yet durable. Cans also preserve the taste, quality and craftsmanship that goes into creating handcrafted beer. On November 1st, craft beer fans will get to enjoy their favorite SanTan Brewing Company seasonal brews in cans too!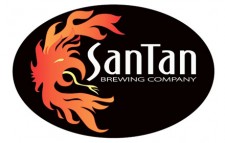 About SanTan Brewing Company
Open since 2007, SanTan Brewing Company has made a name for itself as Arizona's favorite craft beer destination, operating with a commitment to advance the culture of craft beer. SanTan Brewing Company accomplishes this goal through beer production using the highest quality ingredients and methods. In addition to great beer, SanTan has gained a loyal following of craft beer enthusiasts in Arizona by pairing their award winning craft beer with craft food.
Visit SanTan Brewing Company at 8 S. San Marcos Place, Chandler, AZ. They're open Sunday-Thursday, 11 a.m.-midnight and Friday-Saturday, 11 a.m. – 2 a.m. Also, check out SanTan Brewing Company online at www.santanbrewing.com – @SanTanBrewing – Facebook.