TheFullPint.com Going to GABF 2010!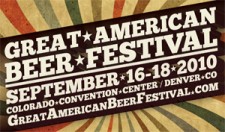 TheFullPint.com will be providing live coverage of The Great American Beer Festival in Denver, CO. This year GABF is welcoming 522 breweries to the competition, with 462 serving their beer to festival attendees (see Breweries at the Festival). More than 2,238 beers are expected to be served at this year's festival and some 3,594 are slated to be judged in the competition. (Note that these numbers are subject to slight variations as the festival draws nearer.)
We will be sending long time TheFullPint.com supporter, and beer/food writer Randy Clemens. Randy Clemens is a freelance food writer based in Los Angeles. He has written for several publications including Gourmet, Saveur, Draft, Imbibe, BeerAdvocate, Los Angeles, and Wine Enthusiast, among others. Randy is a BJCP Recognized Beer Judge, homebrewer, occasional blogger, and the author of the upcoming recipe collection, The Sriracha Cookbook: 50 "Rooster Sauce" Recipes that Pack a Punch (Jan 2011, Ten Speed Press).

We look forward to Randy's Tweets, Videos, and one of a kind perspective on the biggest beer event in the world.
If you are a brewery or a beer tv show, and would like to collaborate, please reach out to us via our Contact form, so we can meet up with you at the event.
Visit http://www.greatamericanbeerfestival.com for all the details of The GABF.