Alaskan Double Black IPA – The Next Beer In The Alaskan Pilot Series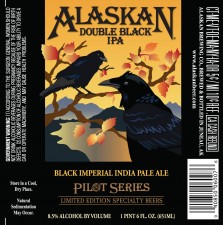 An argument for the senses: Alaskan Double Black IPA is next up from Alaskan Pilot Series
JUNEAU, Alaska – The fireweed is blooming and the leaves are starting to fall in Alaska, and on September 1, Alaskan Brewing Co. will release Alaskan Double Black IPA – a versatile and powerful brew built to face the coming season head on.
"It looks like a porter, drinks like an IPA and has the kick of an imperial stout," says Alaskan Production Manager Dave Wilson. "We always challenge ourselves to showcase balance in our beers, and with so many big and bold flavors, this beer took that challenge to a whole new level."
Alaskan Double Black IPA is the latest in the Brewery's Pilot Series of limited-edition specialty beers. The new brew features a combination of beer styles, with a flavor profile most similar to an Imperial IPA and the dark black color and rich flavors usually found in heartier stouts and porters. Brewed with an array of dark malts, Alaskan Double Black IPA features the distinctive flavors of coffee and bitter chocolate with a subtle toasted sweetness. Large Cascade and Centennial hop additions late in the boil, and dry-hopping after fermentation, lighten and refresh the overall perception and flavor of the beer. It finishes with a dry palate and lingering citrus bitterness.
There has been a lot of discussion as to what to call this emerging beer style – "Cascadian Dark Ale," "Black IPA," and "American-style India Black Ale" are just a few of the names being used.  "We're not sure where it fits within traditional beer styles," says Wilson, "Or if it fits at all, but it's dark and hoppy and unexpectedly smooth."
Alaskan first released their Double Black IPA as a "Rough Draft" for the 2009 Great Alaska Beer & Barley Wine Festival in Anchorage. "We didn't really know what to think of it then, but we knew we really wanted to have it again."
Alaskan Double Black IPA is the second release in the Brewery's "Pilot Series," a rotating collection of distinctive brews packaged in 22 oz bottles that has included Alaskan Baltic Porter, Alaskan Raspberry Wheat and will include a new release of Alaskan's World Beer Cup-winning Barley Wine in December 2010. These and all of Alaskan's specialty release beers are available in limited quantities throughout the western states. Stay tuned to AlaskanBeer.com and facebook.com/AlaskanBeer for updates and information about new releases and what is happening with the Alaskan Brew Crew.
###
About Alaskan Brewing Co.
Alaskan Brewing Co. has been making award-winning beer in Juneau, Alaska, since 1986. The Alaskan Brew Crew bottles the unique character of the Last Frontier with historic recipes, local ingredients and glacier-fed water. Alaskan Brewing handcrafts Amber, Pale, White, Stout, IPA, Smoked Porter, Winter Ale and Summer Ale. Visit www.alaskanbeer.com.