Mad River John Barleycorn Cellar Reserve 2009 Release In September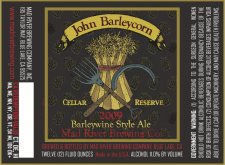 From Mad River Brewing – Our highly anticipated 2009 Cellar Reserve edition of John Barleycorn Barleywine Ale is scheduled to be released on September 24th (2010).
We will be having a release party with live music and BBQ here at our tasting room in sunny Blue Lake on that day.
John Barleycorn Barleywine 2009 Cellar Reserve
This edition has a hue of medium amber with toasty warm caramel aromas. Pleasing with rich caramel and toffee flavors with hints of spice, citrus and dried fruit. It has a smooth bitterness with a clean and warming mouth feel which tantalizes the palette and promotes sipping. The ideal winter warmer best served in a snifter in front of the fire throughout the Harvest Season. Ages extremely well with optimum maturity reached at one year and beyond.
Malts: 2-row pale malt, Wheat, Ashburne Mild, Caramel 120
Bittering hops: Chinook
Flavor Hops: Chinook and Brewer's Gold
Finishing Hops: Brewer's Gold and Cascade
O.G. 1.100
F.G. 1.017
ABV 11%
IBU 84.8