The Bruery White Chocolate – Exclusivity Details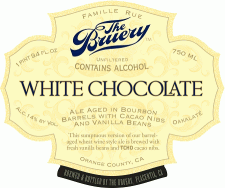 The Bruery has announced their "Mystery Beer" to Their 2012 Reserve Society Members earlier this week. That mystery beer being The Bruery White Chocolate. Here's the product details.
White Chocolate
6 Bottle Limit – $30/bottle ($25.50 after RS discount)

The primary component of our "White Oak" ale is a 100% barrel aged wheat wine that we affectionately refer to as "White Oak Sap." Essentially a "summer" barley-wine style ale, but made with a wheat heavy grain base, White Oak Sap is aged in used bourbon barrels for nearly a year and comes out rich in flavors of coconut, honey, caramel and vanilla. To compliment the already rich flavors of the beer, we've added cacao nibs and vanilla beans to give this beer the delicate flavor of white chocolate…hence the name.
We found out that this is a Reserve Society exclusive,not to be sold at The Bruery Provisions or the The Bruery Tasting Room, and a very small amount has been kegged for special Bruery events.