Stone Company Store To Open In Pasadena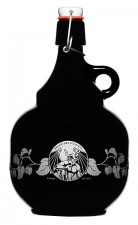 This is probably news to you if you don't read the LA Times, Stone Brewing Co. announced another Stone Company Store launch, this one, perfectly placed in Old Town Pasadena. Stone is targeting this opening for late summer 2012.
Here's an excerpt from the online edition of the LA Times:
Perhaps as early as August, Pasadena will have its very own Stone Company Store on South Raymond Avenue, where, in addition to buying all things Stone, drinking-age patrons can sample beers and get glass jugs — called growlers — to go. But don't confuse it with a bar.
As someone who lives fairly close to Pasadena, this is incredible news.  While it hasn't been particularly hard to get Stone here in this area, being able to get 64 oz. of something that might not be bottled without having to drive to Escondido will be a time and money saver. This will also be very handy for folks flying in for the Rose Bowl once a year, who might not have time budgeted to drive down to San Diego.  Because this is in The Full Pint's backyard, expect more coverage on this, and expect to see us frequenting this store.