Taps Fish House & Brewery Irvine Location Set To Open June 8th
(Irvine, CA) – TAPS Fish House & Brewery is bringing its popular concept of seafood, steak and craft beers to South Orange County with the opening of a location in Irvine on June 8.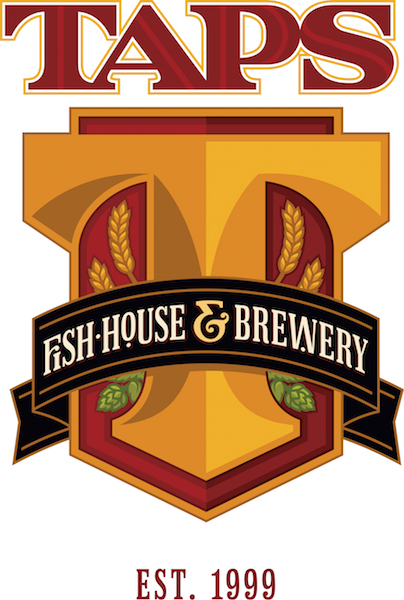 Boasting the largest seating capacity of its kind in the area for private events, and delivering its signatureSunday brunch, lunch, dinner and happy hour in settings ranging from fine dining to a more casual bar-lounge and patio, the new TAPS is located at 13390 Jamboree Road at The Market Place in Irvine. The restaurant has hired 125 employees.
"We are delighted to be opening in Irvine," proprietor and founder Joe Manzella said. "Our search for the right location in South O.C. has taken more than 10 years and encompassed five different development projects. The Market Place is perfect for us. It's simply a win-win scenario across the board."
DESIGN
Like all TAPS restaurants, the new 10,000 square foot Irvine location is all about visibility.
Guests arriving through a brick entryway are welcomed at a made-to-order walnut reception desk in a foyer that showcases a custom built glass red wine storage cellar.   A humidor will display fine cigars available for purchase. A sweeping view of the inviting bar, oyster-charcuterie station, exhibition kitchen, main dining area with TAPS' signature 18-foot-high ceilings and massive doors to the private dining room create a striking first impression. Yet Manzella's third TAPS has a unique, cozier vibe than either the flagship Brea TAPS or the second location that opened in Corona in 2007.
The restaurant's interior has accents of distressed black wood instead of TAPS customary cherry and mahogany. TAPS used brick is more restrained here, and the restaurant's design incorporates sophisticated, muted colors. Flooring features 24-inch Italian floor tiles in cocoa brown with subtle decorative inset tiles. Vintage-style light fixtures and faux leather tufted booths lend a traditional feel. The walls are adorned with vintage black-and-white photos and pencil sketches from local artists to reflect Irvine's heritage as well as a hand-painted American flag. The new TAPS is equipped with 92 private wine lockers for guests. The primary dining room seats 70 with accommodations for another 125 guests in an adjacent dining space.
Libations can be enjoyed in the restaurant's bar and lounge, which seats 105, and has an understatedindustrial feel with stools trimmed in nail heads and a bar top of Cosmos "leather" granite with quartz and minerals in grey and brown with black accents. The back bar has two 70-inch LED televisions, with an additional six throughout the lounge.
A 1,800-square-foot, cigar-friendly patio—with full-service menu and cocktails— seats 100. It is warmed by a large fire pit with counter stools for 10. A dramatic California Live Oak in the patio is also surrounded by seating.
The private dining room at the new TAPS accommodates 125 guests and features a handsome stone fireplace and large barn doors that slide open across an arched entry.  A state-of-the art AV system and two large HD flat screens make for business friendly events. A divider will be installed that can be drawn to create two private dining spaces, one accommodating a smaller group of 35.
BAR
TAPS is as well known for its quality cuisine served in generous portions as it is for award-winning, handcrafted ales and lagers and critically acclaimed wine list, which includes 150 California-centric selections by the bottle and 20 wines by the glass.
The Irvine location has an impressive 24 taps—14 of them for TAPS seasonal and signature ales and lagers, the most offered at any TAPS location. An additional four guest beers on draft will be selected by Brewmaster David Huls. There will be six draft cocktails as well. Six premium wines, produced by some of the state's top vintners, are featured on separate wine taps. A new craft cocktail program will debut here that includes a showy liquid nitrogen take on the classic Moscow Mule.
Guests interested in procuring a wine locker pay an annual fee of $1,000 and receive a monthly $85 certificate good towards the purchase of wine. The certificate is valid for 30 days.
TAPS in Irvine is certain to become the new go-to choice for South County residents for the six days a week happy hour, with special pricing on beers, wine and cocktails along with an impressive menu selection.
FOOD
TAPS' famous seafood, hand-cut steaks and signature oyster-charcuterie bar, with a marble iced display and seating for eight, are highlights of an extensive menu that has been honed and refined since the restaurant first opened more than 15 years ago.
Guests at TAPS in Irvine can watch culinarians at work in a large, open kitchen featuring a Waldorf prep and cooking line. The top notch equipment includes an Italian manufactured Berkel Heritage prosciutto slicer—the gold standard for front-of-the-house meat slicing used for TAPS bountiful charcuterie offerings.
This location will be the first TAPS to showcase some meats and fish cooked in a J & R "Little Red Smokehouse" smoker. The Rolls Royce of smokers from Mesquite, Texas is fueled by apple wood and cherry wood and is inspired by the popular smoker at sister restaurant Lillie's Q in Brea. A smoked prime rib is offered nightly. Rotating smoked fish offerings include trout, albacore, salmon, mussels and oysters and will be featured at TAPS' famous over-the-top Sunday buffet brunch.
Pizza lovers can enjoy TAPS' reimagined pizzas, which have artisanal toppings and are crafted from special dough and baked in a Wood Stone Fire Deck pizza oven.
In addition to TAPS' classics such as miso-marinated Chilean sea bass, drunken mahi mahi and cioppino, the Irvine location offers whole roasted branzino (Mediterranean sea bass). Opah (Hawaiian moonfish) and char siu short ribs (Cantonese style barbecue pork) will be prepared sous vide. The kitchen is helmed by Chef Andrew Monterrosa, who has worked at TAPS in Corona since 2008. The Johnson & Wales grad was previously with Roy's.
The new TAPS underscores Manzella's commitment to tableside service with an expanded lineup of shrimp cocktail, sizzling Japanese hamachi, "smoking gun" beef carpaccio, Caesar salad for two, and Cobb and Veracruz lunch salads made or finished in front of guests. Dessert prepared at the table include TAPS' liquid nitrogen ice cream sundae for two and crème brûlée.
Appetizers/salads at TAPS in Irvine range from $ 8 to $14, entrees from $19 to $35 and desserts from $8 to $12.
TEAM
​​
Joe Manzella, proprietor and owner
Masaya Yamazaki, general manager
Andrew Monterrosa, executive chef
Coastline Design, Inc., design
Keisker & Wiggle Architects, Inc., architect
PKJ Construction, general contractor
LOCATION AND OTHER INFO
The new TAPS is located at 13390 Jamboree Rd. at The Market Place in Irvine, Calif., 92602. Phonenumber is 714-619-0404. Hours are Monday to Thursday 11 am—
10 pm, Friday and Saturday 11 am—11 pm, Sunday 10 am—9 pm.
Reservations are welcomed by phone or online through Open Table; major credit cards accepted. Valet and self-parking available.
For more information about TAPS please visit www.tapsfishhouse.com.
​ ​
TAPS is found on social media at https://www.facebook.com/TAPSRestaurantIrvine and http://instagram.com/tapsfishhouse
ABOUT
TAPS Fish House & Brewery is a celebration of seafood, hand-cut steaks and award-winning traditional and innovative ales and lagers. A connoisseur's wine list recognized by the Wine Spectator showcases a variety of wines. The restaurant, privately owned by founder Joe Manzella, offers a choice of fine dining or the more casual, comfortable bar-lounge; oyster bar, multiple patios and private dining. TAPS is known for its popular Sunday Brunch. The original and flagship TAPS debuted in Brea Downtown in Orange County, California in 1999; a second location serving the Inland Empire opened at The Shops at Dos Lagos in Corona in 2007. The Catch in Anaheim is a sister restaurant of the organization. Lillie's Q, a partnership with renowned barbecue Chef Charlie McKenna, opened in Brea Downtown in December 2014.
THE MARKET PLACE
One of Southern California's most popular shopping centers, The Market Place is a 165-acre regional lifestyle shopping center known for offering the best-in-class in a variety of retail categories, including electronics, home furnishings and décor, sporting goods and more. Conveniently located off the Santa Ana (5) Freeway, the center straddles the cities of Irvine and Tustin. The Market Place features more than 120 stores and notable restaurants, including Best Buy, Target, Orange County's largest REI, Taco Rosa, G Burger, Bonefish Grill, Veggie Grill, Class 302 Café and Mizu Sushi Bar & Grill. For more information, please visit ShopTheMarketPlace.com.