Sun King Brewery Celebrates 7 Years of Growth
(Indianapolis,IN) – Sun King Brewery, one of the initiators of the craft beer movement in Indiana and the largest brewery in Indiana that distributes beer exclusively within the state, is celebrating seven years of growth and innovation by announcing statewide distribution in grocery and convenience stores. New 12-ounce cans of its first, most popular and award-winning brews, Sunlight Cream Ale and Wee Mac Scottish Ale, will be available on grocery and convenience store shelves for the first time beginning July 25, 2016. At the same time, Sun King will update the packaging of its 16-ounce cans, as well.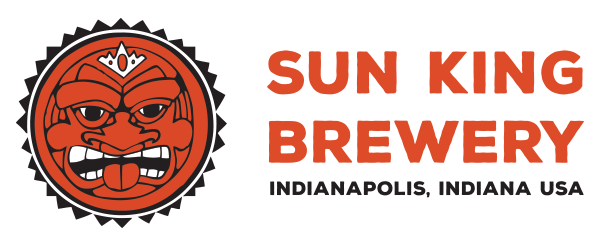 Sun King recently completed a $2 million expansion to its downtown brewing facility in response to the growing demand for its Fresh•Local•Beer. Investments in new brewing equipment, technology and processes, which dramatically reduce naturally occurring elements such as light and oxygen that deteriorate beer, now allow Sun King to produce fresh, quality beer that Indiana grocers and convenience stores can stock on shelves, without refrigeration, increasing Sun King's distribution and making their beers more widely available to Hoosiers. All beers will still carry a "packaged-on" date, and Sun King recommends that all beer be refrigerated and consumed within 90 days of its packaging. The new six- and 12-packs of 12-ounce cans of Sunlight Cream Ale and Wee Mac Scottish Ale will be available beginning July 25 at major Indiana grocery and convenience stores including Cost Plus, CVS, Fresh Market, Kroger, Martin's, Marsh Supermarket, Meijer, Rite Aid, Sam's Club, Target, Town & Country, Wal-Mart, Whole Foods, and others.
"Since barrel one, we have always believed in brewing beer that has exceptional quality, flavor and consistency," said Dave Colt, co-founder and head brewer at Sun King. "By using new brewing technology like our centrifuge and canning processes, we can reduce the presence of oxygen and light below industry standards, which deteriorate freshly-brewed beer at an accelerated rate, and have these beers taste just as delicious and freshly tapped as if it were refrigerated."
Sun King has also made several other infrastructure improvements at its downtown brewery, including adding a state-of-the-art canning line, new laboratory equipment and three new larger fermentation tanks that will nearly double the brewery's production capacity and allow the brewery to continue to expand its distribution within the state lines of Indiana.
"Over the past few years we've decided to make dramatic infrastructure and technology improvements to our brewery in order to supply delicious beer that is 'uniquely Indiana' to Hoosier beer fans throughout the state," said Clay Robinson, co-founder of Sun King. "These investments will allow us to be innovative and flexible with processes and packaging, as well as be creative with new products and releases while still maintaining our high standards of quality."
In addition to offering new 12-ounce cans, Sun King will begin rolling out new boxed-packaging for all of its four-packs of 16-ounce cans of their three house brews, as well as many seasonal and specialty beers. Refrigerated 16-ounce four-packs are available at both of Sun King's breweries and liquor stores throughout Indiana. Drawing inspiration from the people and community of Indiana, Sun King has produced more than 300 different varieties of beer, dozens of which have been awarded national and international medals.
###
About Sun King Brewery
Sun King Brewing Company is the brainchild of Dave Colt and Clay Robinson. With the help of family and friends – Omar Robinson, Andy Fagg and Steve Koers – the first keg of Sun King beer rolled out the door for delivery in July 2009. Now available on tap and in cans at hundreds of locations statewide, Sun King has grown into the second-largest beer brewer in the state of Indiana – and the largest brewer in the state that distributes beer exclusively in Indiana. The company's commitment to handcrafted seasonal and specialty beers has been rewarded with multiple medals at the Indiana Brewers Cup, Great American Beer Festival and World Beer Cup competitions. Visit www.sunkingbrewing.com for more information. Sun King Brewery is also on Facebook,Twitter and Instagram.