Stone RuinTen IPA Released On June 17th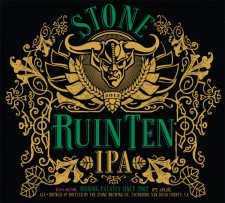 (Escondido, CA) – Stone Brewing Co. will release Stone RuinTen IPA, a re brew of the infamous Stone Ruination Tenth Anniversary IPA. Last year's release was embraced by fans and Team Stone alike, which prompted Stone Co-founders Greg Koch and Steve Wagner to add the unabashedly bitter brew to the special release calendar this year. This highly sought-after hop monster will be available in bottles and /or on draft at select retailers, restaurants and bars across the U.S.
Last June, Stone Ruination Tenth Anniversary IPA was brewed to celebrate the tenth anniversary of Stone Ruination IPA. Stone achieved its staggering 110 International Bittering Units (IBUs) by using twice as many hops – five pounds per barrel to be exact – and cranked up the alcohol-by-volume from 7.7% to 10.8%.
"We brewed this beer using the same ingredients as in our classic Stone Ruination IPA, but we jacked up the hops – not just in the boil, but we doubled the dry-hop amount, using a 50/50 blend of Centennial and Citra," explained Stone Brewmaster Mitch Steele. "We also bumped up the malt to achieve its elevated ABV. The combination is, dare I say, magic."
If Stone Ruination IPA is "A Liquid Poem to the Glory of the Hop," then Stone RuinTen IPA is "A Stage Dive into a Mosh Pit of Hops." Those that dare to enjoy this hop bomb will notice myriad fruity, tropical and citrus characteristics , plus a lingering bitterness on the palate. The elevated ABV brings about a full-bodied maltiness, which helps to balance out the agressive hop flavors.
For an optimal hop experience, this beer should be enjoyed before the "Drink By" date on the bottle – in fact, the sooner the better to maximize the hop flavor.
Again. You're welcome.
Name: Stone RuinTen IPA
URL: stonebrewing.com/RuinTen
Stats: 10.8% ABV, 110 IBUs
Availability: Limited 22-ounce bottles and draft, beginning June 17
Malt Bill: Pale Malt, Crystal 15
Hops Bill: Columbus and Centennial, dry-hopped with Citra and Centennial
Distribution: AK,AZ,CA,CO,CT,DC,DE,FL,GA,IA,ID,IL,IN,KY,LA,MA,MD,ME,MI,MN,MO,MT,NC,NJ,NJ,NM,NV,NY,OH,OR,PA,RI,SC,TN,TX,VA,,VT and WA
ABOUT STONE BREWING CO.
Known for its bold, flavorful and largely hop-centric beers, Stone Brewing Co. has been brewing in North County San Diego since 1996. Founded by Greg Koch and Steve Wagner, Stone is the 10th largest craft brewer in the United States – a position it achieved without paid advertising, discounting or compromising standards. In addition to brewing, Stone owns two eclectic farm-to-table restaurants- Stone Brewing World Bistro & Gardens- Escondido and Stone Brewing World Bistro & Gardens- Library Station- and Stone Farms, an organic farm located near the brewery which grows produce for the restaurants. Stone also operates an off-site events company, Stone Catering, as well as Stone Distributing Co., which distributes more than 30 craft beer brands throughout Southern California.  For more information, please visit stonebrewing.com or on social media sites: Twitter, Facebook, Instagram, Google+, YouTube, and The Stone Blog.