Stone Ruination Tenth Anniversary IPA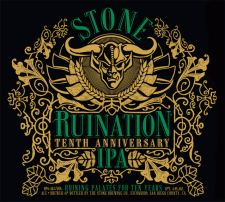 From Stone – Today, Stone Ruination IPA is one of the best selling double IPAs in the world, thanks to you, so we brewed this special version to celebrate.
Stone Brewing Co. – Stone Ruination Tenth Anniversary IPA – 22 oz. bottle poured into a goblet. 10.8% abv.
Appearance:  Pours a bright copper with a dense creamy head that falls to a 1/4 inch cap.
Aroma:  Gigantic bouquet of grapefruit, pine, tangerine, sativa and caramel or maybe Crème brûlée topping.
Taste: Starts with caramel and spicy malt, then a big wave of resinous agressive piney hops, fruit cocktail in light syrup, grapefruit. A little alcohol and a long bitter finish.
Mouthfeel: Full bodied ,juicy with average carbonation.
Overall:  Ruination IPA was how I fell in love with west coast style IPAs. Anytime I visit Stone Brewing Company store, I get a growler fill of that beer.  Pretty much anything with the word Stone and IPA I like a lot.  This Tenth Anniversary blend knocked my socks off, and sent me down memory lane of 6 years ago when Stone 10th Anniversary IPA was fresh.  Compared to that monster of a beer, Ruination Tenth is a bit more balanced, in particular the malt to hop to alcohol aspect. Also this beer isn't nearly as sticky as 10th Anni.  The nose will blow you away on this alone, and after your first few sips, you'll be in love, assuming you are a fan of well made double IPAs.  If you follow us on Facebook or Twitter, I will update you over the next month or two to see if this beer gets even more magical, as I found the 15th Anniversary Black IPA slowly got tastier and more aromatic as a few months went by. Definitely against the grain on those who won't drink 3 day old Pliny, but you gotta trust me.