Stevens Point Brewery Releases Point Nude Beach Summer Wheat Ale in 16 oz. Cans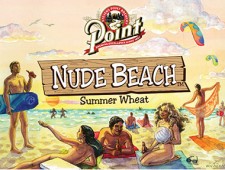 Stevens Point, WI – Summer is almost here and Point Nude Beach Summer Wheat Ale is ready with a new 16-ounce can package.
Stevens Point Brewery's award-winning summer seasonal ale, available only during warm-weather months, is now sold in four-packs of 16-ounce cans wherever Point craft beers are sold.
More and more craft beer brewers and consumers are realizing and appreciating the advantages of beer in aluminum cans, and 16-ounce cans are an especially popular part of the trend, according to Joe Martino, Stevens Point Brewery Managing Partner. "A 16-ounce can allows for a pint pour, a serving size that many beer lovers prefer," Martino said, adding that cans are convenient, light, unbreakable and recyclable.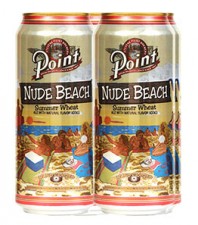 The 16-ounce can four-pack offers beer lovers more options when purchasing Point Nude Beach Summer Wheat, Stevens Point Brewery's largest selling seasonal beer, which is also available in six-packs and 12-packs of 12-ounce bottles, 12-packs of 12-ounce cans and on draft. "Last year we increased production of Nude Beach Summer Wheat by 50 percent to prepare for summer demand," Martino noted. "This summer we expect that sales of Point Nude Beach Summer Wheat will be strong again. Our new 16-ounce can package will help meet that demand for a great beer on a warm summer afternoon or evening."
Award-Winning Ale 
Strong summer sales are not the only testament to Point Nude Beach Summer Wheat's quality and popularity. Since making its debut in 2008 as one of Stevens Point Brewery's most successful new product launches ever, the golden-colored, unfiltered wheat ale has received several beer competition awards, most recently a silver medal in the Wheat Ale category of the 2012 World Beer Championships sponsored by Chicago's Beverage Testing Institute.
Point Nude Beach Summer Wheat is brewed with unmalted white wheat, malted red wheat, specialty barley malts, fresh Mt. Hood hops from the Yakima Valley and Stevens Point Brewery's own ale yeast, which lends a hint of citrus to the brew. The unmalted wheat imparts body and the beer's distinctive wheat flavor. The red wheat adds a slightly sweet character. It all adds up to a flavorful, refreshing beer for summer.
The Stevens Point Brewery
Stevens Point Brewery, founded in 1857, uses only the highest-grade barley malts, specialty malts, grains and the choicest hops to brew their handcrafted beers. In addition to Point Special Lager, the brewery's year-round specialty beers include Point 2012 Black Ale, a robust dark ale; Point Belgian White, a Belgian-style wheat ale; Point Burly Brown American Brown Ale; Point Cascade Pale Ale, a hoppy American-style pale ale; Point Drop Dead Blonde Ale, a golden ale; and Point Amber Classic, an American-style amber lager. The brewery's year-round craft portfolio also features the Whole Hog Limited Edition Brewmaster's Series of "big beers," including Whole Hog Six-Hop India Pale Ale, Whole Hog Raspberry Saison, Whole Hog Russian Imperial Stout, Whole Hog Barley Wine Ale and the seasonal Whole Hog Pumpkin Ale. In addition to Point Nude Beach Summer Wheat, seasonal specialty brands include Point St. Benedict's Winter Ale, a dark, abbey-style ale available from November through February; Three Kings Ale, a Kölsch-style beer; and Point Oktoberfest, a Bavarian-style Märzen beer for the fall.
Gourmet soft drinks from the Stevens Point Brewery include Point Premium Root Beer, Point Premium Diet Root Beer, Point Premium Orange Cream, Point Premium Vanilla Cream and Point Premium Black Cherry Cream Soda. Point Premium Root Beer, made with pure cane sugar, natural vanilla and Wisconsin honey, was awarded a gold medal by the Beverage Testing Institute.
www.pointbeer.com – @pointbrewery – facebook