The Fort Collins Brewery Selects FCB Art Brewers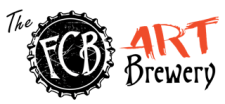 (Fort Collins, CO) Approximately one month ago, FCB (The Fort Collins Brewery) announced the creation of the FCB Art Brewery, a studio dedicated to creating beer-inspired art and supporting local artists. After reviewing applications from local artists throughout the month of May, FCB has announced the winners: Tomas Herrera and Dave Marca.
The Art Brewers were selected based on their existing works and their views on why beer and art should be combined.
"Tomas and Dave are both very talented, versatile artists," says FCB's marketing director, Charles Stanley. "They're not limited to only one or two types of media, and they're very excited about collaborating, so we're excited to see what they generate."
FCB views brewing beer as an inherently creative process, and they developed the FCB Art Brewery as a way to combine the art of beer with other forms of creative expression, particularly visual art, and to support the Arts and artists in the Fort Collins community. They found kindred spirits in the founders of the Downtown Artery, which houses the FCB Art Brewery as well as other studios in a space that provides a uniquely collaborative environment for artists.
The new FCB Art Brewers, Tomas and Dave, will get full use of the FCB Art Brewery from the beginning of June to the end of September, at which time they will take alumni status and a new pair of Art Brewers will move in.
The Downtown Artery hosts its grand opening Friday, June 7th from 6:30-9pm. It will be the public's first chance to see the new space and meet the resident artists, including the FCB Art Brewers. Complimentary FCB beer will be on hand, and FCB plans to provide beer to the Downtown Artery for future First Friday Gallery Walks as well.
For more information about the FCB Art Brewery and the Art Brewers, visit fortcollinsbrewery.com/artbrewery.
For more information about the Downtown Artery, visit downtownartery.com.
Additional Links
Website: www.fortcollinsbrewery.com
Facebook: Facebook.com/FortCollinsBrewery
Twitter: Twitter.com/FortCollinsBrew