Denver Rare Beer Tasting V – October 11, 2013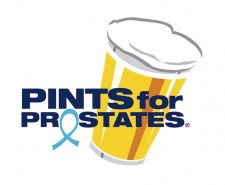 The Denver Rare Beer Tasting V, an awareness event and fundraiser for the Pints for Prostates campaign, will be held on Oct. 11 from 1-4 p.m. in Denver.
Tickets for the event go on sale on Father's Day, June 16, at Noon (ET) and are $100 each. Admission includes the chance to sample rare, exotic and vintage beers from more than 30 of America's top craft breweries and the opportunity to meet the men and women who made them. Each attendee receives a commemorative tasting glass, t-shirt, program and pen. Guests also receive a three issue trial subscription to the award-winning All About Beer Magazine. A buffet lunch is included in the ticket price and guests will have the chance to bid in an exciting silent auction that includes a variety of unique beer experiences and collectibles.
Presented by All About Beer Magazine, tickets for the event are among the most sought after of any beer tasting. The event is held while the Great American Beer Festival is taking place in Denver. The first four Denver Rare Beer Tastings each sold out several weeks in advance.
"The Denver Rare Beer Tasting is the quintessential rare beer event and gives people in Denver for the GABF the chance to experience a true boutique-style tasting," said Daniel Bradford, publisher of All About Beer Magazine. "Our goal is to bring together America's best craft breweries in a relaxed format where brewers and beer lovers get the chance to talk and taste a unique collection of beers."
Pints for Prostates is a 501(c)3 non-profit charity founded by beer writer and prostate cancer survivor Rick Lyke. All net proceeds from Denver Rare Beer Tasting go towards the awareness mission of Pints for Prostates and help to fund the education and support programs of the Us TOO International Prostate Cancer Education and Support Network, and free prostates cancer screening programs provided by the Prostate Conditions Education Council.
"The Denver Rare Beer Tasting has become on the most anticipated annual beer celebrations in the U.S. Beer fans get to taste a collection of beers that most people never have the chance to enjoy, while rubbing elbows with brewers," said Lyke. "It is a fun afternoon and a great atmosphere, with a serious mission: raising awareness about prostate cancer."
The link to purchase tickets will be posted at www.allaboutbeer.com and www.pintsforprostates.org prior to the start of sales.
Invitations have been extended to a small select group of breweries and event organizers hope to be able to announce the brewery list during July. Breweries bring some of their rarest brews to the event and the beer list will be released prior to the Denver Rare Beer Tasting V. Sponsorship packages are available for companies that wish to support the event.
About All About Beer Magazine
Now in its 34th year, All About Beer Magazine has been the essential source for the evolving beer culture. Winner of numerous awards and recognitions, All About Beer Magazine publishes the best on beer — its history and culture, beer travel, entertaining, brewing and collecting — six times a year with one additional bonus issue annually. The magazine promotes the positive attributes of the growing beer culture by hosting the World Beer Festivals where guests have the opportunity to taste samples from a wide range of beers and to discuss the beer with brewers and knowledgeable servers. For more information, please visit www.allaboutbeer.com – @allaboutbeer – Facebook
About Pints for Prostates
Pints for Prostates is a 501(c)3 a campaign that reaches men through the universal language of beer to encourage them to take charge of their health. The group was founded by prostate cancer survivor and beer writer Rick Lyke in 2008. The grassroots effort raises awareness among men of the importance of regular health screenings and PSA testing by making appearances at beer festivals, social networking and pro bono advertising. More information is available at www.pintsforprostates.org – @pints4prostates – Facebook