Smog City Snugglebug Bottle Pre-Sale at 12PM!
(Torrance,CA) – We are extremely excited to announce that Snugglebug will be returning to bottles and the draft lines at Smog City! First released in February for Valentines Day, Snugglebug is a sour blonde with Raspberry and Boysenberry that is bright purple in color and bursting with berry flavor and aroma.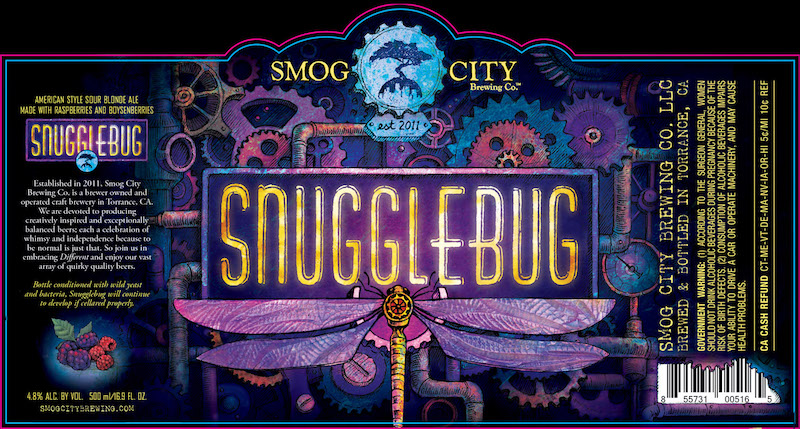 BEER DETAILS:
Snugglebug – Sour Blonde with Raspberry and Boysenberry – 4.8% ABV – 3500 bottles available.
PURCHASING DETAILS:
**$12 per bottle (500ml), 6 bottle limit per person**
** 10 (ten) 3 Liter Magnums will be available for $142 each. Limit 1 per person. **
Online bottle sales will begin on Tuesday, Aug 16th at 12pm and will end Friday, Aug 26th at 12pm (24 hours before release) or when bottles are sold out.
You must be at least 21 years old to purchase bottles.
PICKUP DETAILS (Starting Aug 27th):
Purchased bottles will be available at Smog City's Tasting Room starting on Saturday, Aug 27th at 12pm and will be available through September 25th, plus the beer will be available on draft beginning that day while supplies last (expected to last a few weeks). If we do not sell out online, bottle sales to the general public will begin Sunday, Aug 28th.
Saturday Aug 27th 12-10pm we are hosting the official bottle release party and pick-up event for pre-sales. All are welcome, no tickets necessary but general sales for any available bottles will not begin until Aug 28th.
-In order to pick up your bottles, you will need to show your valid photo ID; it must be your ID and the name must be on the ticket. You must be at least 21 years old to purchase and pickup bottles. Duplicated orders will not be accepted. Smog City Brewing reserves the right to cancel and refund any order we deem in violation of this policy.
* All pre-purchased bottles must be picked up by Sunday, September 25th. *
** REPEAT, the final day to pick up purchased bottles is September 25th. Absolutely no excuses will be accepted. We have limited storage space, and all remaining bottles will be moved off-site. NO EXCEPTIONS. **
*** Please don't purchase bottles if you are not 100% sure you will be able to come during the window. Seriously. ***
Please note that we will not issue refunds, exchanges, or returns. All sales are final.