Sixpoint Releases Diesel In Cans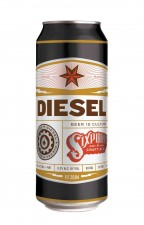 Original Sixpoint Offering Is Brewery's Limited-Edition Winter Can Release
Brooklyn, NY – Fans of Sixpoint can now pick up the Sixpoint classic offering in 16-ounce cans starting this week. The Brooklyn-based brewery has just released Diesel cans for a limited time, available in bars and store wherever Sixpoint is sold. Diesel marks the winter installment of the seasonal canned beer rotation, which was introduced this fall with Autumnation.
Sixpoint's Diesel has been available as draft-only since 2005, the year the brewery began production. With a roasted, robust flavor and effervescent quality unlike most stout ales, the beer has fondly welcomed each winter by both Sixpoint staff members as well as the public. The cans, which are black aluminum with bronze accents, reflect the beer's intense and nuanced sooty-brown hue.
"Diesel was one of the first beers we ever made, an original homebrew recipe of mine. This beer was being brewed well before the style category 'Black IPA' was even invented. The original intention of this beer was to merge the hoppy and spicy characteristics of a solid IPA with the roasted and nutty character of an American Stout. Our fans have always regarded this beer as a cult classic, and now it is available for them to take home in 16 oz. cans, in true Sixpoint style."
Speaking on behalf of the Sixpoint brewing staff, brewer Sean Redmond said of Diesel: "It's always been hands-down our favorite beer that we make."
As cans of Autumnation fade to black Diesel, fans can look forward to two more seasonal beers in cans from Sixpoint to come in 2012. The Seasonal offerings have provided an exciting dimension to Sixpoint's highly acclaimed canned beer program, which was introduced just three months ago. Soon after the brewery's core beer flavors – Sweet Action, Bengali Tiger IPA, Righteous Ale, and The Crisp – became available in cans, customers began depleting stocks faster than they could be produced, and fans clamored for more of their favorite Sixpoint flavors to be available in the portable canned format. The design of the cans has earned praise from Esquire, The New York Times, and numerous websites and blogs, such as Power Animals, which dubbed it, "The classiest beer can ever."
About Sixpoint Brewery: Sixpoint Brewery was born out of an 800 square foot garage in Brooklyn, New York City in 2004 by homebrewer Shane Welch, who had amassed over 1000 individual homebrew recipes. The brewery's name is derived from the ancient six-pointed brewers' star, which had symbolically adorned the walls and equipment of ancient breweries since at least the Medieval period. Sixpoint's motto is "Beer is Culture" to highlight the human trajectory – the earliest human civilizations were founded upon the cultivation of cereal grains for making beer. Sixpoint aims to perpetually inspire the art, creativity, and community generated through beer by acknowledging the history of the craft, while forging ahead to inspire culture in  a modern setting.
www.sixpoint.com – Facebook – Twitter