Saint Arnold Icon Green – El Dorado IPA Debuts This Week
(HOUSTON, TX) – Saint Arnold Brewing Co. is releasing their newest beer in the Icon series, Icon Green – El Dorado IPA, this week. This is the brewery's first beer to feature the relatively new El Dorado hop variety.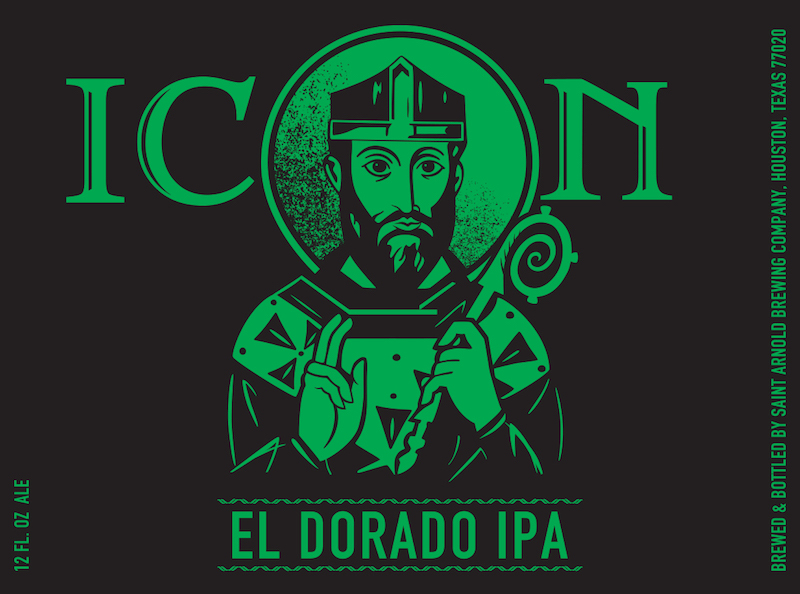 The El Dorado hop in Icon Green – El Dorado IPA is front and center, lending flavors of watermelon, pear and stone fruit. Citra hops were also used to provide even more tropical fruit flavors to the IPA. Three different malts are used in the IPA. Two-Row pale is the base malt with additions of Weyermann Melanoiden and Caramel 120 malt to add some sweetness and balance the hops and to give this brew a nice red color.
"Icon Green has become the release where we focus on new hops," said Saint Arnold Founder/Brewer Brock Wagner. "It's great for our customers to be able to experience and appreciate new hop varieties and is a platform for us to assess how we may want to use this hop in the future."
Beers in the Saint Arnold Icon series have limited release availability, typically three months, and will be available in six-pack bottles and on draft in Texas and Louisiana. More information on the Icon Series is available here:
http://www.saintarnold.com/icon/.
Original Gravity: 1.0624
Final Gravity: 1.0117
Alcohol: 6.0% ABV
Bitterness: 50 IBU
The following events are planned for the release of Icon Green – El Dorado IPA:
Saint Arnold Icon Green – El Dorado IPA Release and Tap Takeover at Good Dog, Houston, Friday, March 10 at 6PM
Saint Arnold Icon Green – El Dorado IPA Release and St. Patrick's Day Celebration at Conservatory, Houston, Friday March 17 at 6PM
On Twitter, follow @saintarnold
On Facebook, like www.facebook.com/saintarnold
On Instagram, follow @saintarnoldbrewing
On Pinterest, follow https://www.pinterest.com/saintarnoldbrew/
On Snapchat, follow 'saintarnoldbeer'
About Saint Arnold Brewing Company
Saint Arnold Brewing's 11 year-round beers, seven seasonals and three special series – Divine Reserve, Icon and Bishop's Barrel – are made and sold by the company's staff of 80 dedicated employees. Saint Arnold beers have won 21 medals at the Great American Beer Festival. The brewery on the north side of downtown Houston was listed by Thrillist among the best breweries in America for eating, and Smart Meetings magazine named it among the top breweries to host an event. Saint Arnold is located at 2000 Lyons Avenue and its beer hall open at 11 A.M. Monday through Saturday. For more information, visit www.saintarnold.com.