Upland Brewing Campside Returns for Your Spring Adventures
(Bloomington, IN) – Upland Brewing Co. is welcoming the budding trees and the warm rays of sunshine with the return of Campside Session IPA and encouraging everyone to follow their adventure this spring. Campside will be released in late March in 6-pk bottles, 4-pk cans, and on draft.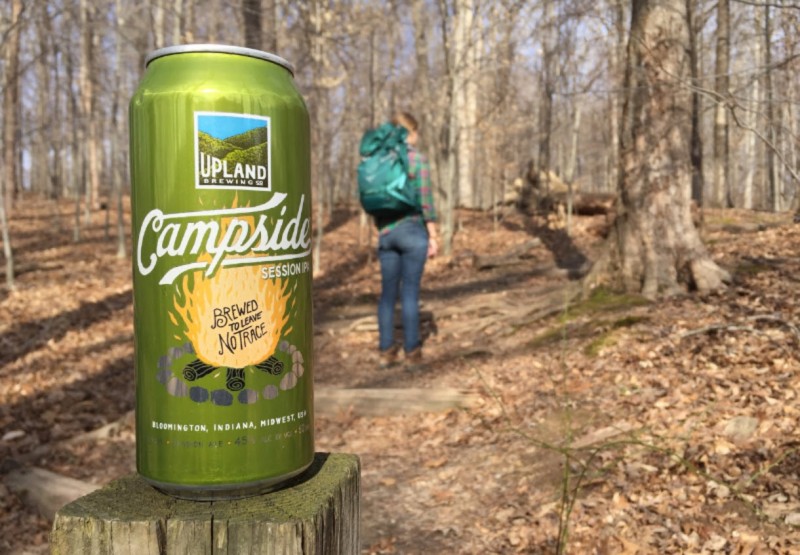 Whether your weekend adventure takes you biking, hiking, or out on the canoe, Campside Session IPA is a great warm weather go-to beer with a foundation of delicate light malts and flavorful American hops.
"Campside was brewed to be as refreshing and drinkable as possible while still packing in a huge amount of hop flavor and aroma. The 4.5% ABV makes it the ideal beer for sipping all day on a hike, camping or fishing trip, music festival or any outdoor activity where you'd always like a beer in hand, but still want to keep your wits about you. It's a favorite amongst the brew crew who are always looking for a flavorful beer to spend the day with," said Brewer Matt Wisely.
This Session IPA is the perfect combination of crisp, subtle bitterness with distinct apricot and pine fragrance in the finish. Campside took the Silver Medal at the Indiana State Fair Brewers Cup in 2015 and it goes well with more than the trails. Enjoy it with campfire staples, and for an extra kick, pair with s'mores using salted chocolate.
Campside will be in stores and Upland locations soon and fans are encouraged to share adventures of where Campside takes them using the hashtag #campsideipa. The outside is calling!
About the beer: Late additions of hops allow the distinct fragrance of grapefruit, apricot, and pine to be preserved as much as possible in the finished beer. With a crisp, but subtle bitterness, a refreshingly light malt character, and a 4.5 ABV, this is the perfect warm weather beverage for those who think flavor is just as important as refreshment.
ABV: 4.5% IBU: 50
www.uplandbeer.com – UplandBrewCo – facebook