Saint Arnold Icon Green Amarillo Hefe Returns
(HOUSTON,TX) –  Saint Arnold Brewing Co., the oldest craft brewery in Texas, today announced it is bringing back Saint Arnold Icon Green – Amarillo Hefe, one of the most popular beers since the introduction of that Saint Arnold Icon Series. Saint Arnold Icon Green will arrive in pubs, restaurants and retail stores as supplies of Icon Blue – Rye IPA run out.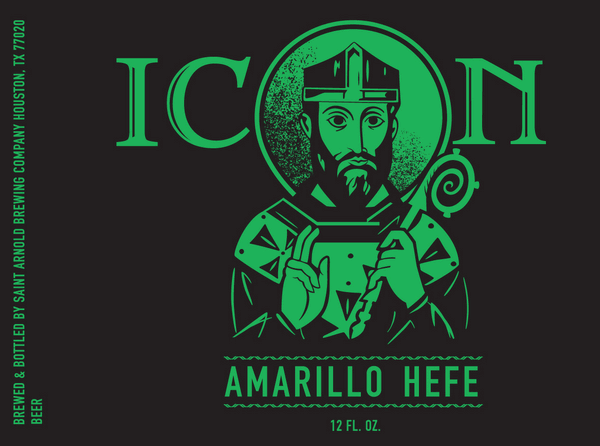 The Saint Arnold Icon Series is a line of rotating beers that complement the brewery's year-round and seasonal offerings. Saint Arnold Icon Green – Amarillo Hefe will be available on tap and in four-packs of 12-ounce bottles through July 2015.
Saint Arnold Icon Green – Amarillo Hefe is a hefeweizen that features the bright orange citrus and piney aroma of Amarillo hops, a patented varietal discovered at and exclusively grown by Washington's Virgil Gamache farms. Saint Arnold's brewers dry hop with a healthy dose Amarillo, which complements the banana and clove flavors of the yeast. Even though the balance gives an impression of added fruit and spice flavor, only two-row barley as well as wheat, Vienna and Cara-Munich malts, hops, yeast, and water are used.
"By loosely defining what the Saint Arnold Icon Series is, we have been able to be creative in what we brew," said Saint Arnold Founder/Brewer Brock Wagner. "It also enables us to bring back favorite releases from time to time.  Icon Green – Amarillo Hefe is a wonderfully refreshing summer beer for Texas, Louisiana and Florida, while still offering a lot of flavor. It is an artful combination of malt, hops, yeast and water."
Specifications:
Original Gravity: 1.051
Final Gravity: 1.0105
Alcohol Content: 5.4% ABV
Bitterness: 32 IBUs
Saint Arnold Icon Green – Amarillo Hefe was originally introduced in May 2013. A new Saint Arnold Icon beer is released every three months or so, depending on how quickly supplies are exhausted. As the brewery continues to experiment, some Icon styles are expected to be replaced from one year to the next while other styles may return. The beer is referred to as Icon Green because of its striking metallic green and black label.
The next beer in the Saint Arnold Icon Series will be a Belgian-style witbier, scheduled for release around September. Learn more about the Saint Arnold Icon Series at http://www.saintarnold.com/beers/icon.html.
On Twitter, follow @saintarnold
On Facebook, like www.facebook.com/saintarnold
On Instagram, follow @saintarnoldbrewing
About Saint Arnold Brewing Company
Saint Arnold Brewing's 16 brews are made and sold by the company's staff of 74 dedicated employees. Ranked 46th on the Brewers Association list of top craft breweries, Saint Arnold was listed by USA Today as one of the "10 great places to see what's brewing in beer," and Smart Meetings magazine named it among the "Top 5 breweries to host an event." Saint Arnold is located at 2000 Lyons Avenue and its brewery tour and tasting is offered every weekday at 3:00 P.M. and Saturdays starting at 11 A.M. For more information on Saint Arnold's eight year-round and five seasonal beers as well as root beer, log on to www.saintarnold.com.