Russian River Beatification Batch 6 Release December 14, 2013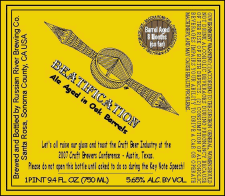 One of our most favorite beers is returning in a few weeks.  If you are a friend or loyal supporter of TheFullPint, please snag us a bottle or two of Russian River Beatification. We'll trade or purchase. Hit us up! Sadly we can't make it up there the 14th. Here is the official release details from Russian River's Facebook Page.
We are releasing the next batch of Beatification, our 100% spontaneously fermented barrel-aged sour beer ,or "Sonambic", on Saturday, December 14th! As you can see in the video we have just over 1,000 cases available! Beatification is a brewpub only release and will also be available on draft- yum! There will be a limit of 12 bottles per person at $18/bottle. A case of Beatification would look great under the Christmas tree! We will open at 9am that morning and have 2 options for our guests: there will be an area just for bottle sales if you want to get in and go. And anyone desiring a breakfast beer is welcome to join us in the pub. Hopefully lots of people will come out for this release so be prepared to wait for a bit. Vinnie and I will be there to personally wish you all Happy Holidays!