Founders Brewing 2014 Availability Calendar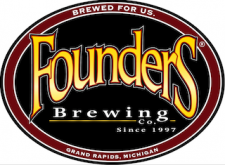 Founders Brewing shares info on thier 2014 Availability Schedule. read the "lowdown" and follow the link to see their actual Calendar. Cheers.
Nitro Series
We've been pouring nitro beers in our taproom for some time now. For the past few months, we've been experimenting with sending kegs of Nitro Pale Ale and Nitro Oatmeal Stout out to the market, an experiment that has met great success. Because of this response, we've decided to add these two beers to our availability calendar so that more people outside of Grand Rapids can enjoy them. Please note that these are draft-only offerings. It's an exciting addition to our lineup!
New Specialty Beer in Development
Our R&D team is hard at work developing a new specialty beer to be added to our calendar for next October, November and December (see the area marked TBA on the calendar). Stay tuned for more details on that as we move into 2014. It's sure to be delicious.
Specialty Releases
We are decreasing the number of specialty releases from six to four, giving each of the specialty releases in 2014 three months of availability on shelves and draft lines. Most notably, we moved Backwoods Bastard from a specialty release to a limited release—this beer is inherently a limited release (because it's barrel-aged), and it fits much better in our calendar in this position.
Seasonals
In 2013, we started with two seasonal beers—Breakfast Stout and All Day IPA—but we ended up moving All Day IPA to our year-round lineup, leaving just Breakfast Stout in the seasonal category, with some slots to fill for 2014. We are going to fill those slots with Red's Rye IPA and Rübæus, expanding availability of both from two months to four.
Red's Rye IPA
Perhaps you've been confused about how to categorize Red's Rye into a beer style. The name could lead you to believe that it's a pale ale or a rye beer or an amber. To clear things up, we are changing the official name of the beer from Red's Rye PA to Red's Rye IPA. Red's Rye IPA is first and foremost an American IPA. We hope this name change will help people understand that.
Note: Red's Rye IPA will remain available on draft year-round but bottles will be moving to our seasonal lineup in 2014 rather than our specialty lineup, which is where we plugged them in this year.
Backstage Series
We will be continuing the release of our 750mL Backstage Series beers in 2014, with brands and timing yet to be determined. Stay tuned…
Click here to see the 2014 Availability Calendar.
Originally posted at foundersbrewing.com