Oskar Blues Sets Up Shop In Boulder
Boulder, CO – Oskar Blues Brewery, the originator of craft beer in a can and catalyst for brewery and restaurant locations in Lyons, Longmont and Denver is opening its first Boulder, CO spot with a taproom and live music venue on Pearl Street. Oskar Blues expects to open the 921 Pearl Street space, formerly occupied by World of Beer, in late summer of 2017.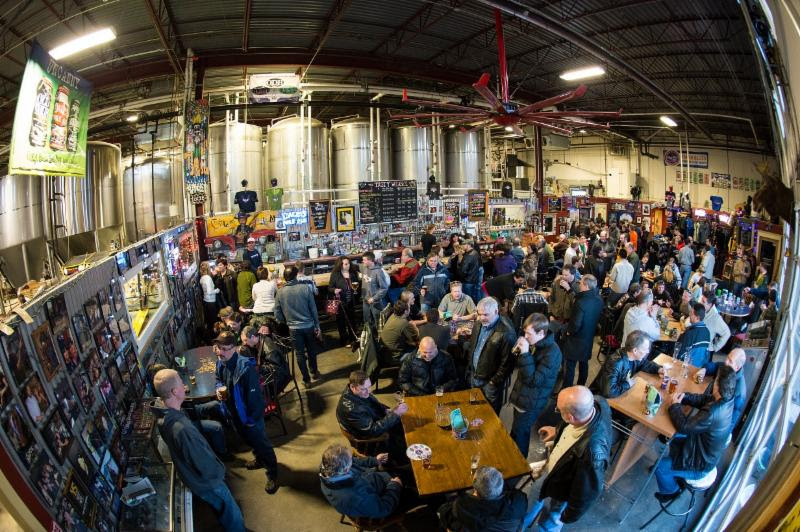 The Boulder taproom brings Oskar Blues full circle since the opening of the Grill and Brew restaurant in Lyons 20 years ago. While riding his bike from a job at Madden Equipment to another job at Old Chicago in Boulder, Soul Founder, Dale Katechis ran into the late Gordon Knight brewing beer in a storage unit. That meeting eventually inspired G'Knight Imperial Red IPA and sparked possibilities of a life in craft beer.
From being the first craft brewery to brew and can their beers 15 years ago in Lyons, CO, Dale's way of bucking tradition has fueled Oskar Blues to all fifty states, snagging a top 10 slot in the Brewers Association's list of national craft breweries this past year. While Oskar Blues has grown, projects like REEB Cycles, Hotbox Roasters and new Fooderies concepts have kept the gritty culture true to core passions, and brought the hands on approach to the most iconic street in Boulder, Colorado.
"Over the years, we've developed great relationships in the Boulder community with BolderBoulder, University of Colorado, Gold Rush Rally and through the efforts of the CAN'd Aid Foundation with groups like the Boulder Mountainbike Alliance. The live music scene and connection to the outdoors is at the core of the Oskar Blues culture. We're stoked to extend our front door to Pearl Street and Boulder proper," said Chad Melis, Marketing Director at Oskar Blues Brewery.
Beer will flow from more than 20 taps featuring a full line-up of Oskar Blues can and draft classics alongside Lyons, CO created rare beers, specialties and offerings from Oskar Blues partner breweries, Cigar City Brewing and Perrin Brewing. Along the pedestrian blocks of Pearl Street Mall, the taproom will also provide canned beer to-go and draft-only specialties in CROWLER cans where beer drinkers can take away canned beer. Never one to leave guests hungry, the Taproom will serve a pared down menu of Oskar Blues classic eats.
Following the opening of the Oskar Blues Fooderies CHUBurger/Hotbox Roasters CBD Cafe locations in the RiNO district earlier this year, and locations in Colorado Springs and 16th & Market downtown Denver later this year, the Boulder taproom opening expands the total footprint of Oskar Blues Fooderies and Brewery locations to twelve in Colorado and fourteen nationwide including taproom/breweries in Brevard, NC and Austin, TX.
About Oskar Blues Brewery
Founded 20 years ago in Lyons, Colorado, Oskar Blues Brewery launched the craft beer-in-a-can apocalypse with their hand-canned, flagship brew Dale's Pale Ale. Today, Oskar Blues is one of the fastest growing breweries in the country and operates breweries in Colorado, North Carolina and Texas. Oskar Blues produced more than 200,000 barrels in 2016 and Dale's Pale Ale earned the nation's top-selling craft can six-pack at U.S supermarkets. The original craft beer canners continue to push innovation with creations like The CROWLER, Hotbox Coffee Roasters, B. Stiff & Sons Old Fashioned Sodas, Oskar Blues Fooderies, REEB Cycles and the cycling inspired accommodations and event space at REEB Ranch in North Carolina. Oskar Blues is available in all 50 U.S. states, Washington, D.C., parts of Canada, Puerto Rico, Sweden, Norway, Finland, Spain, France, the Netherlands, Belgium, Luxembourg, the U.K., Ireland, Australia, New Zealand, Chile, Brazil, and South Korea.
CAN'd Aid Foundation is all about diggin' in and makin' a difference where we CAN. Our "do-goodery" is focused on:
Towns – building strong communities
Tunes – for your eyeholes and earholes
Treads + Trails – get outside and get after it!
Love Yur Mama – save the blue marble
www.oskarblues.com – @oskarblues – @oskarblueswnc – facebook – facebook SE – youtube