Stony Creek Brewery Releases La Garza Mexicali Lager
(BRANFORD, CT) – Stony Creek Brewery is excited to announce the release of its newest year round beer, La Garza Mexicali Lager. This authentic Mexicali Lager will be packaged in 12 ounce cans available in 12 packs throughout all markets where Stony Creek beers are available.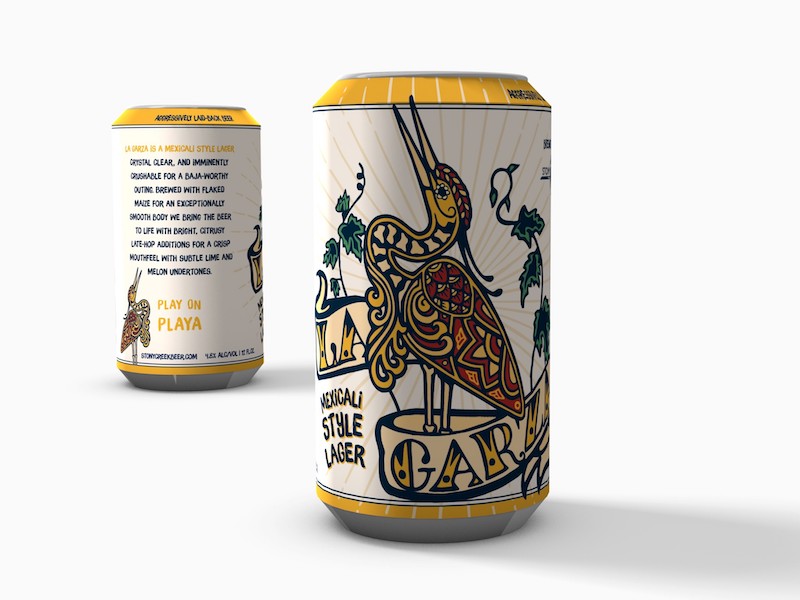 Mexican-style lagers have long been preferred over American adjunct lagers by many beer drinkers for their relatively full body, smooth refreshing flavor characteristics, and authentic laid back personality. Before the craft beer zeitgeist, many American brewers sought them out for these reasons, making them mainstays of the American palate even amongst craft brewing culture.
Stony Creek Brewery pays homage to these beers' influence on the drinking culture as the season shifts from the heftier winter warmers to the spring and summer months where a beer inspired by the Baja region takes its rightful place on the beach, in the boat, or in brewery's case, on its dock.
Brewed with flaked maize for an exceptionally smooth body they bring the beer to life with bright, citrusy late-hop additions for a crisp mouthfeel with subtle lime and melon undertones. "I love the technical challenge of brewing beers like these," says Stony Creek Brewmaster, Andy Schwartz, "As simple as they are to drink, they're delicate and hard to get right. Plus we get to make it our own with a unique American hop profile."
"This beer reflects that familiar Mexicali laid back beach vibe by way of American craft brewing," says Schwartz. "It's our riff on the style. Our 'Mexicali' lager is crystal clear and imminently crushable for a Baja-worthy outing even in the middle of New England."
Stony Creek will be hosting its own Baja Beach Bash at the brewery on May 6th to celebrate the launch of the new beer, complete with waterside games, food, and enough La Garza that it will be like counting the grains of sand on the beach. Which is entirely the point.
Stony Creek Brewery, LLC, is a member of both the Brewers Association and the Connecticut Craft Beer Guild and is distributed in;
Connecticut: Dichello Distributors, Hartford Distributors, Levine Distributing
Maine: Federal Distributors, Maine Distributors, National Distributors, Valley Distributors
Massachusetts: Horizon Beverage, Quality Beverage, Williams Distributing, Girardi Distributors
New Hampshire: Amoskeag Beverages
Rhode Island: Horizon Beverage
Vermont: Farrell Distributing
For more information on Stony Creek Brewery visit them on Facebook at www.facebook.com/ StonyCreekBeer or visit the Stony Creek Brewery website at www.stonycreekbeer.com.