Oskar Blues Brewery & Blank Slate Brewing – CINCY 3-WAY PORTER Release Details
(Longmont, CO and Cincinnati, OH) –CINCY 3-WAY PORTER, a creative collaboration brewed by Oskar Blues Brewery of Colorado and Blank Slate Brewing Company of Cincinnati, will debut at the Oskar Blues booth at the Cincy Winter Beer Fest on February 13 & 14 at Duke Energy Convention Center. The beer will then be available on draft at bars and restaurants throughout the city and at special Cincinnati Beer Week events (Feb. 13-22).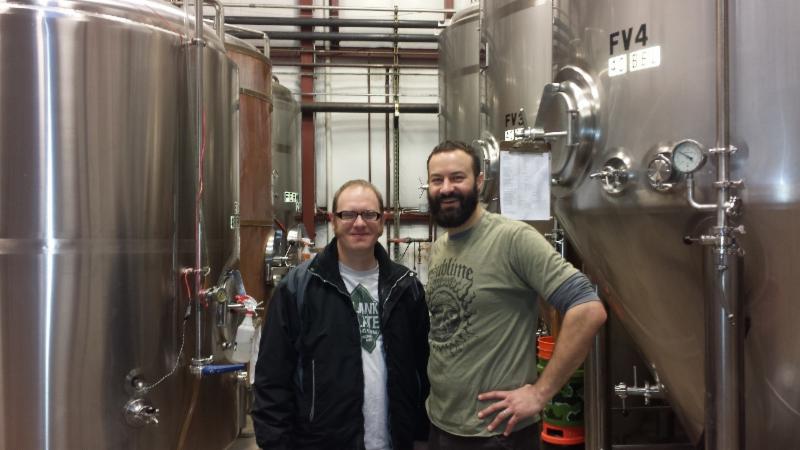 This porter has a rich, intense malt character and a subtle spicy flavor (7% ABV, 40 IBUs). Using a new process, the brewers spiced and smoked the barley at the original Oskar Blues Grill & Brew in Lyons, Co. The barley was doused with cumin, coriander, allspice, and cinnamon, then slow-toked in the smoker at the original Oskar Blues Grill & Brew in Lyons, CO (birthplace of the first canned craft beer). The finished porter is the perfect beer partner for Cincinnati chili.
"During the recipe development process, we came up with the idea of smoking the malt with spices you find in Cincinnati Chili-as opposed to adding the spices directly to the beer. This makes the beer a great companion to one of my favorite late night snacks," says Oskar Blues brewer Jason Buehler, an Ohio native.
The draft-only beer will be distributed throughout Southwestern Ohio and Northern Kentucky by Stagnaro Distributing, and will be available for a limited time at the Oskar Blues Brewery Taprooms in ColoRADo and North Carolina. Look for CINCY 3-WAY on tap at your favorite Cincy or N. Kentucky watering hole or restaurant.
"Brewing with the team at Oskar Blues was great. Whether you are from a small brewery or a big one, there is always common ground to discuss and enjoy when it comes to beer," says Scott LaFollette, Blank Slate proprietor.
About Blank Slate Brewing Company
Blank Slate Brewing Company was founded in March 2011 by Proprietor, Janitor, and Yeast Farmer Scott Lafollette. Scott is a BJCP certified Beer Judge, a Certified Cicerone, and a 2008 graduate of the Siebel Institute's Concise Course in Brewing Technology. Initially operating as a draft-only operation with distribution to local bars and restaurants, Blank Slate produces primarily seasonal brands.
http://www.blankslatebeer.com/
About Oskar Blues Brewery
Founded as a brewpub by Dale Katechis in 1997, Oskar Blues Brewery launched the craft beer-in-a-can apocalypse in 2002 using a tabletop machine that sealed one can at a time. In 2008, the makers of the top-selling pale ale in ColoRADo, Dale's Pale Ale, moved into a 35,000-square-foot facility in Longmont, ColoRADo. The brewery has since experienced explosive growth-from packaging 59,000 barrels of beer in 2011 to 149,000 barrels in 2014. In December 2012, Oskar Blues opened the doors to an additional brewery in Brevard, North Carolina. Recently, Oskar Blues secured an additional 60,000 square feet at its Colorado location to allow additional production expansion. Oskar Blues now distributes trail-blazing craft brews to 41 U.S. states, Washington, D.C., as well as parts of Canada, Sweden, and the U.K.
http://oskarblues.com
http://www.facebook.com/OskarBluesCans
http://www.facebook.com/OskarBluesSoutheast
http://twitter.com/oskarblues
http://twitter.com/oskarblueswnc
http://www.youtube.com/oskarbluescans