Order Firestone Stickee Monkee, Modern Times Tetra City & Upright Brewing Beers Now
We are back this fine Friday to bring you what you need or didn't know you needed until now. Our friends over at Bine and Vine bottle shop just received an allotment of Firestone Walker Stickee Monkee, a fresh AF Double IPA from Modern Times and a few beers from the wizards up at Upright Brewing. Bine and Vine packs these up nice and snug so all you have to do is a few clicks and boom, great beer is at your doorstep. Sounds good? We thought so, so read these descriptions, click the links and head to check out.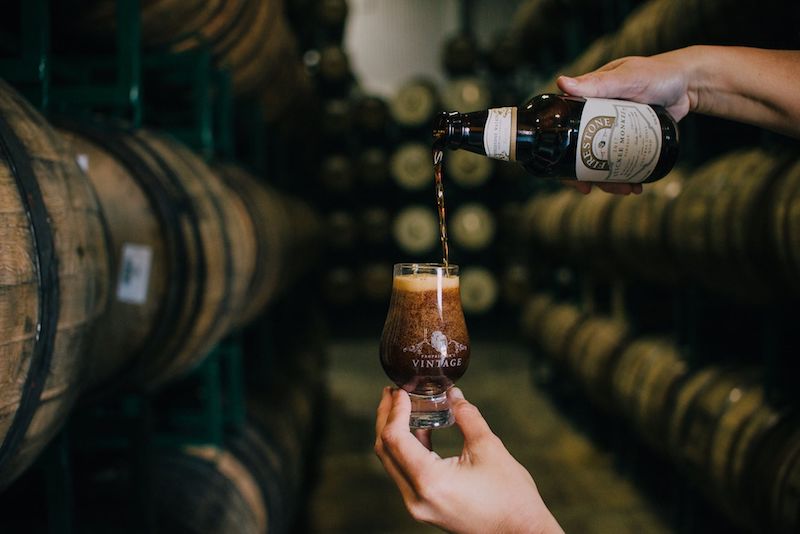 Firestone Walker Stickee Monkee 2017 – Brewed with Belgian candi sugar and aged in a selection of fine bourbon barrels, Stickee Monkee trailblazes its own category as a "Central Coast Quad." The name Stickee Monkee is a nod to the Central Coast's native Sticky Monkey flower, as well as a shout­‐out to the Belgian monks who pioneered the Quad style.
It has been said that the only constant is change and the same is true for barrel-aged beers. Cut from a similar recipe, this barrel-aged Quad evolves and shows a different face each year; a result of time spent aging in the barrel. Turbinado brown sugar from Mexico adds wonderful molasses flavors that are reminiscent of Belgian candi sugar. It has a full body and lush texture with barrel expression all over; toasted oak, coconut, leather and rich cigar tobacco.
CLICK HERE TO PURCHASE FIRESTONE WALKER STICKEE MONKEE
Modern Times Tetra City Double IPA – Tetra City is nothing less than a boss-level fave-melter of a Double IPA. Loaded with big, tropical hops that explode out of the glass from aroma to finish, this beer takes your palate directly to Party Town for an extended stay that you won'r ever want to end. Pour some into your favorite tulip glass and prepare to cherish the moment.
GET YOUR HOP FIX, ORDER MODERN TIMES TETRA CITY DOUBLE IPA NOW
Upright Scap Iron – A single release that was made with two inspirational classics in mind – Saison de Pipaix and Orval. Expect vintage character in this complex barrel aged beer featuring Mecca Grade Malt at it's core.
Scrap Iron was brewed as a nod to two specific historic beers from Belgium – Saison de Pipaix and Orval. Both of those are legendary and rooted well in the past, with fascinating profiles that exude character and individuality. Many modern interpretations of Belgian-style beers seem to miss that mark, relying on a narrow spectrum within aroma, flavor, mouthfeel and finish. Instead, the Scrap Iron strives to integrate layers rarely seen anymore – metallic notes, semi-coarse bitterness, restrained Brettanomyces, dry-hopping with low oil varieties, and delicate yet purposeful spicing.
Upright Shades – Shades is a deceptively fruit-forward beer blended from seven casks loaded with rainer cherries and wild yeasts. Barrel fermented and bottle conditioned.
Shades, the companion beer to the Hearts' Beat, looks like a typical beer at first glance but is far from it. Loads of Rainer cherries were added to the casks and, while they don't add much in the way of color, their flavor contribution is enormous, filling the beer with floral and fruity notes along with a good bit of acidity.
The 2016 starts with a much spicier nose, followed by a wild flower flavor profile encompassing every component of the fruit (flesh, pits, skin), a range of Brettanomyces and orchard yeasts, and a rounded oak expression that helps balance the tartness.
IF YOU DON'T ORDER SHADES, WE WILL, SO ORDER NOW BY CLICKING THIS LINK