Meet Daisy Blonde…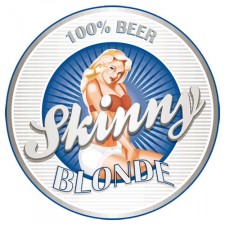 Meet Daisy Blonde. She's a timeless, classy blonde. Much like the beer she represents, Skinny Blonde. An all Australian, all natural, low carb, 5% beer brewed locally by Brothers Ink, Skinny Blonde is fast becoming a talking point in bars around the nation.
The beer brand has launched a rather cheeky new website that is certainly getting some attention! The site allows you to meet a bevy of real-life Skinny Blondes, with some dramatic results! Visit www.skinnyblonde.com.au to check it out!
The brand has experienced dramatic growth in the first few months of this year, with over 80 stockists in NSW, QLD and VIC, with interest internationally, and even a nice article in the Times Online in the UK! For stockist information, click here. If you're interested in stocking Skinny Blonde, please email [email protected]
About Skinny Blonde
Skinny Blonde is brewed by Brothers Ink, the brain child of three friends from Sydney:
Hamish Rosser – drummer for The Vines, presenter, chemical engineer
Richie Harkham – winemaker
Jarrod Taylor – artist
Skinny Blonde is a refreshing beer brewed for your enjoyment. It has not been proven to make you funnier, more charming to the opposite sex or a better dancer. But at least you'll have a great tasting beer. Please drink it responsibly.
100% Preservative free
Skinny Blonde contains no preservatives, no added sugar or animal products whatsoever, so it's okay for vegans
100% Australian
Unlike most beers brewed in Australia, Skinny Blonde is 100% Australian owned and operated
100% Beer
Skinny Blonde is 5.0% alc/vol, low-carb and as tasty as its name sake
To find out where to buy Skinny Blonde, visit www.skinnyblonde.com.au