North Coast Brewing and Jazz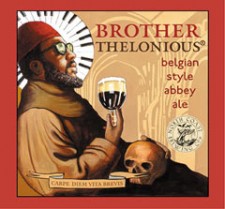 NORTH COAST BREWING & JAZZ:  Craft Brewing Supports a Uniquely American Art Form
Jazz and beer go together as one of the more satisfying pairings you can enjoy in this life. That's certainly been the case at North Coast. Since the beginning, Jazz has been an important part of our operation. Back in the 80s when we were just a local brewpub, our live Jazz on Saturday nights was an event everyone looked forward to. We loved it, and it was another way for us to support the Mendocino Coast Jazz Society and their scholarship efforts. As we grew, it was natural that we would find new and better ways to support this uniquely American art form. With the introduction of Brother Thelonious Belgian Style Abby Ale came an opportunity to carry our involvement to the next level. The beer is, of
course, an homage to Jazz legend Thelonious Monk, and the brewery is proud to make a donation to the Jazz education programs of the Thelonious Monk Institute of Jazz (www.monkinstitute.org) for every bottle that's sold. To date, North Coast Brewing has been able to contribute over $100,000.
This association has also led us into becoming sponsors of the Monterey Jazz Festival, the oldest Jazz festival in the country. As the official beer of the event, in fact the only brew available at the festival, we're able to introduce our beers and our style of community support to thousands of festival attendees. We're coming up on our fourth year of this sponsorship and have expanded our reach by association with the San Francisco Jazz Festival, the Healdsburg Jazz Festival and the Redwood Coast Jazz Alliance in northern California. North Coast Brewing also underwrites a number of Jazz radio stations around the country. Gotta' keep those sounds flowing… It's a great feeling when your love of beer and your love of Jazz can line up like this.
For more on North Coast Brewing and Jazz, see our Jazz page.