Lord Hobo Brewing Expands Distro to NJ and Philly Area
(Woburn, MA) – Massachusetts-based Lord Hobo Brewing Co. (LHBCo.) today announced plans to expand into New Jersey and Eastern Pennsylvania. The company has appointed Hunterdon Brewing Co. for state-wide sales in New Jersey, and Gretz Beer and Penn Beer for distribution throughout Philadelphia and Allentown, Pennsylvania.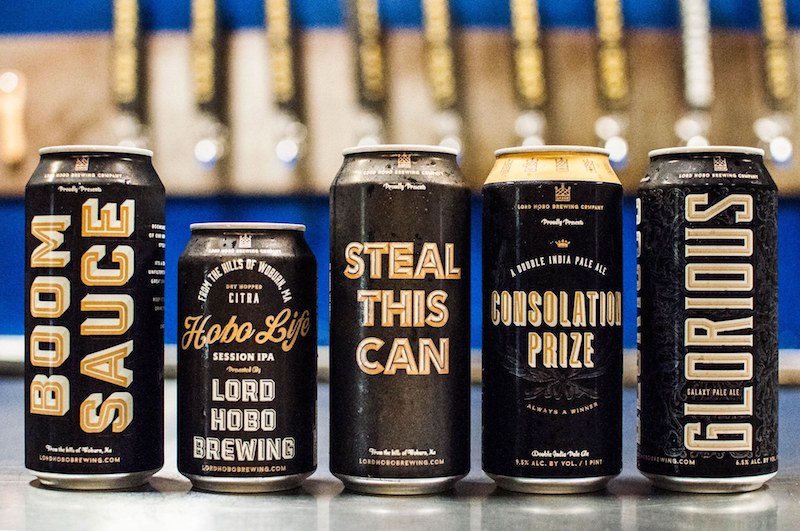 "Our ragging fans in PA and NJ have been rallying for our beers for quite some time and we're amped to finally be there," says Lord Hobo's Founder and CEO, Daniel Lanigan. We're jamming out to Boys II Men and Bruce Springsteen here this week as we continue our penetration outside of our home market of New England and get down with the enthusiastic beer drinkers of NJ and PA. We've found great, capable partners in Hunterdon, Gretz and Penn Beer, these markets are significant opportunities that support our growth plans."
The addition of these territories takes LHBCo.'s distribution footprint to 14 states. To supply new and current markets with fresh product, LHBCo. continues to invest in added cellar capacity, by the completion of 2017, the brewery will have installed eight 160-barrel fermentation tanks, brite tanks and a rotary canning line.
Cans and draft of LHBCo's core styles including Boomsauce IPA, Hobo Life Session IPA, and Glorious Galaxy Pale Ale will be available in New Jersey beginning October 10th, 2017 and expanding into Eastern Pennsylvania October 16th. Launch Events will be posted on the breweries website www.lordhobobrewing.com and social media pages @LordHoboBrewing.
About Lord Hobo Brewing Company– Founded in 2015, Lord Hobo Brewing Co. produces distinguished craft beers that are accessible to all. Located in Woburn, Massachusetts, LHBCo crafts style-defining New England-Style beers and pairs them with a brand that's carefree, bold and adventurous. Their near 30,000 bbl brewery is ever-expanding to accommodate demand from their thirsty loyal following and savvy beer consumers alike. Stay connected on social media @lordhobobrewing, or for more information visit www.lordhobobrewing.com