Left Hand Brewing – Good JuJu Returns, Great JuJu Debuts
(LONGMONT, CO) – The days are getting longer and the season for light, summertime beers is upon us! Left Hand Brewing Co.'s Good Juju Spiced Ale has returned this March, along with its new big, bad brother – Great Juju! In addition to their seasonal release of Good Juju, a light ale brewed with ginger, Left Hand has released a 22oz. imperial offering that gives beer drinkers a truly unique and flavorful experience.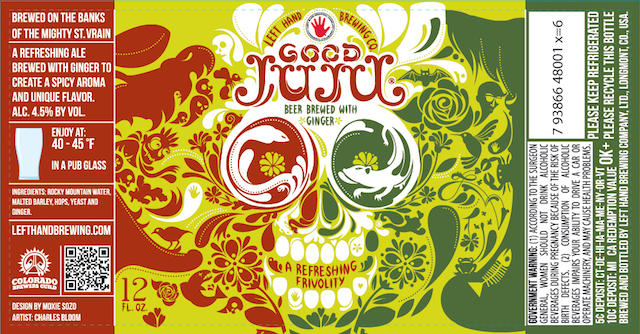 Made with fresh juiced organic ginger, the Juju beers are a refreshing choice for warm weather enjoyment. Brewed since 1994, Good Juju is a longtime fan favorite, available seasonally in six-packs and on draft. The herb/spiced ale is a light beer with a fresh ginger aroma and a malty backbone. Inspired by Good Juju's avid following, the brewery amplified the style, releasing an imperial offering. Great Juju is brewed with more ginger and holds a higher ABV, with a spicy ginger aroma and a mischievously balanced potion of sweet heat and caramel candy.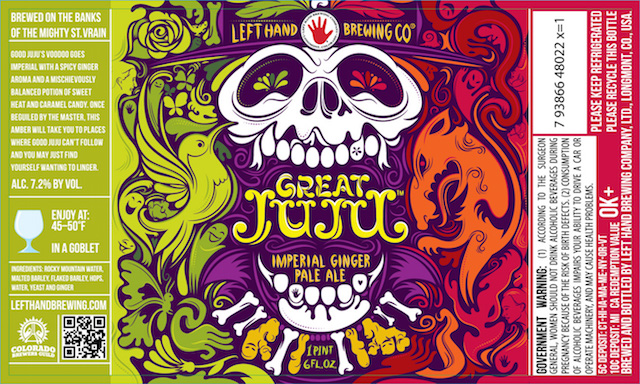 Left Hand Brewing has prepped 3307 lbs (1500kg) of ginger for the 2015 production of Good Juju and Great Juju. The brewing team juices all the ginger by hand in the Left Hand brew house, in addition to steeping the leftover pulp in the wort. The lasting palate effect of using juiced ginger, gives way to incredibly fresh and intensely aromatic beers that are the perfect companions to the foods and occasions of the summer months.
Good Juju will be released on draft and six packs; Great juju will be available in limited release on draft and in 22oz bottles. Both beers will have availability in Left Hand's 33 state distribution.
About Left Hand Brewing Company
Celebrating twenty-one years of brewing a well-balanced portfolio of craft beers, Left Hand Brewing Company is located at 1265 Boston Avenue in Longmont, Colorado. Left Hand is one of the most honored and recognized breweries in the state, with over 24 Great American Beer Festival medals, 9 World Beer Cup awards, and 7 European Beer Star awards. Famous for their Nitro series, Left Hand Brewing was the first craft brewery to release a bottled nitrogenated beer. Left Hand's collection of perennial and seasonal beers are available in 33 states & DC. "Sometimes you're not in the mood for what everyone else is having."
Distribution: AL, AZ, CO, CT, DC, FL, GA, IA, IL, IN, KS, KY, MA, MD, ME, MI, MO, MN, NC, NH, NJ, NM, NY, OH, OK, PA, RI, SC, TN, TX, VA, VT, WA, WI