Mother Earth Brew Releases 2015 Four Seasons of Mother Earth – "Spring"
Vista, CA – Mother Earth Brew Co. announces the 2015 annual release of "Four Seasons of Mother Earth – Spring" this year brewed in collaboration with Automatic Brewing Co.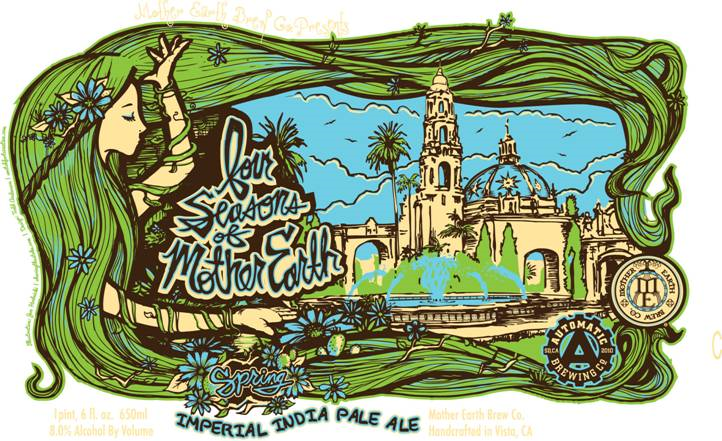 Spring is here!!! Mother Earth is proud to announce the second annual release of, "Four Seasons of Mother Earth – Spring" from their extremely popular Four Seasons specialty line of beers.
Released every Spring, Summer, Autumn & Winter just in time for the appropriate equinox or solstice, "Four Seasons" represents the most exclusive and rare beers that Mother Earth offers.
2014 saw the inauguration of the Four Seasons program with the spring release of "Printemps Houblon'ale" or "Spring Hop Ale." A Belgium Tripel brewed in Collaboration with Brasserie du Pays Flamand.
This year "Spring" is no less exciting with a very special beer designed and brewed by Mother Earth Head Brewer Chris Baker, in collaboration with Automatic Brewing Company Founder and Brewer Lee Chase.
Says Chris, "Collaborating with a respected industry legend such as Lee has been like a dream come true for me and my team. We can't wait for everyone to try this unique and original IPA when it hits shelves."
"Four Season – Spring" is also affectionately known as "Balboa Park Anniversary Ale" as stated on the bottle back and was created especially to honor the 2015 Centennial Celebration of San Diego's famous Balboa Park.
An 8% Imperial IPA in the "West Coast" style, this year Spring includes ingredients commonly found in Balboa Park such as Loquats, Honey, Dates, Figs, Prickly Pear, Cane Sugar and Rose Hips.
Bottles of "Four Seasons of Mother Earth – Spring" officially release on Friday, March 20th and will be available in all five states where Mother Earth brands are distributed as well as in extremely limited draft. "Spring" is best enjoyed fresh and unlike Mother Earth's "Four Seasons" barrel offerings, should not be held for an extended period.
Look for Mother Earth's next "Four Seasons" release "Summer" in time for the solstice on June 21st.
So celebrate the coming of "Spring!" And never forget to… #loveyourmother https://www.facebook.com/MotherEarthBrewCo
About Mother Earth
Founded in 2010, Mother Earth Brew Co. develops hand crafted artisanal ales in both year-round, as well as seasonal and specialty offerings. Its award winning beers help define the standard of West Coast Craft and have led to year over year growth of over 100% since inception. With two tasting locations within the City of Vista including a large Tap Room that anchors the historic Downtown Vista Village District as well as distribution in five states, Mother Earth is proud to be a part of the San Diego craft scene and to be considered one of its premier craft breweries.
motherearthbrewco.com – @MotherEarthBrCo – facebook