Jester King & Wicked Weed Collaborate on The Parking Lot Grissette
(Austin,TX) – We're excited to announce The Parking Lot Grissette, our collaboration with Wicked Weed Brewing in Asheville, North Carolina! As Wicked Weed mentioned in their post below, the beer was born out of a mutual friendship and love of rock climbing. It's also the type of beer we often enjoy drinking the most — dry, tart, low alcohol, hoppy, with some interesting yeast character!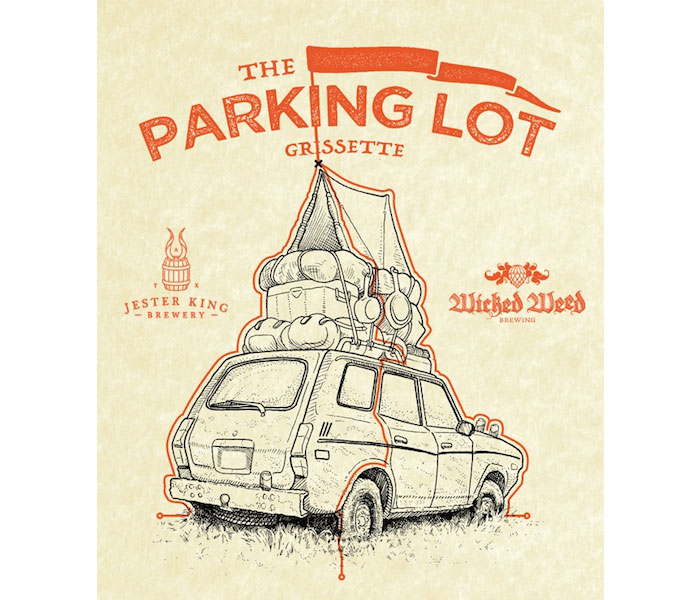 From Wicked Weed:
In this industry, finding friends comes naturally. We're all pursuing the passion that is craft beer. It's a baseline commonality that we all share. Sometimes, however, you find that extra similar trait which creates bonds that are a little harder to break. The relationship we've established with Jester King Brewery is just that type of friendship. Inspired by our mutual love of the outdoors, rock climbing in particular, we decided to create a beer for those long days that turn into headlamp-lit nights. This tart farmhouse ale is dry-hopped with Mandarina Bavaria and Huell Melon and is perfect for helping tell those stories of the day's successes and failures. Chalking our hands was a must during the brew process. Crag after crag, parking lot after parking lot, for a climber, this is home.
The Parking Lot Grissette is just the first in a multi-part collab with Jester King. Stay tuned for the next part. But for now, The Parking Lot Grissette is available at the Funkatorium and our Brewpub. Limited distro to follow.
We're also excited to announce that Wicked Weed Owner/Head Blender Walt Dickinson will be at Jester King the afternoon of this Saturday, March 12th to celebrate the release. Walt sent us some of his beers to celebrate the occasion and free samples will be available starting at Noonuntil supplies run out. Bottles of The Parking Lot Grissette will be available for purchase at Jester King at a later date once the beer has label approval from the Texas Alcoholic Beverage Commission.
On a personal note, we've really gotten to know Wicked Weed and the people behind it well over the last few years. We can't think of a finer, more well-run, professional organization, brewing truly exceptional beer, and headed by some of the most talented and friendly people we've encountered in the beer industry. We're thrilled their beer is coming to Texas, honored to have worked with them, and happy to call them friends. Below are some photos of our climbing trip to the Red River Gorge in Kentucky that inspired the beer.