Jester King Hibernal Dichotomous Release March 27, 2015
(Austin, TX) – We are pleased to announce Jester King 2015 Hibernal Dichotomous, our winter saison brewed with beets, citrus, and thyme. 2015 Hibernal Dichotomous is our fourth seasonal saison, following 2014 Hibernal Dichotomous (released in April 2014), 2014 Estival Dichotomous (released in November 2014), and 2014 Autumnal Dichotomous (released in January 2014). As we mentioned with the previous releases, our brewing is largely driven by the seasons. We make farmhouse ales when the weather is warm and temperatures are conducive to fermentation in stainless steel, and we make spontaneously fermented beers and barrel fermented beers when temperatures are cooler and conducive to overnight inoculation of wort and slow maturation in oak. We also use the ingredients that are available to us at various times of the year. In the spring, we make beer with peaches and raspberries, in the summer we use apricots, strawberries, and figs, and in the fall we use grapes and squash. Hibernal Dichotomous is reflective of the ingredients available during the winter months.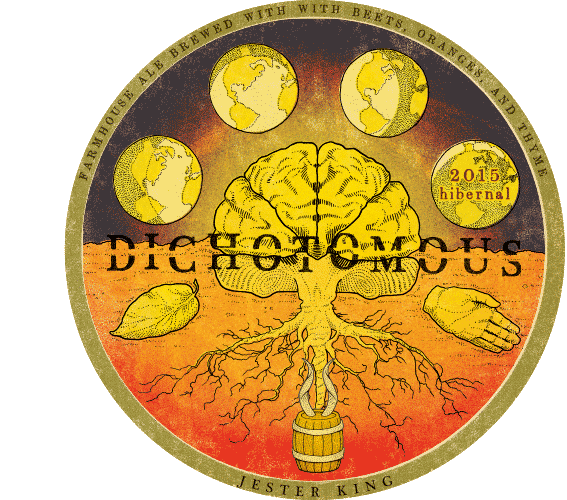 2015 Hibernal Dichotomous was brewed in late December of 2015 with Hill Country well water, malted barley, flaked oats, beets, hops, orange juice, orange zest, and thyme. It is a different recipe from 2014 Hibernal, which was a blend of pressed watermelon juice, young farmhouse ale, and mature barrel-aged beer brewed with rosemary, lavender, and spearmint. For this winter's beer, we wanted the ingredients to reflect the flavors of winter in Texas using quintessential Texas winter produce. Peeled and grated raw beets from Johnson's Backyard Garden were added to the mash, and orange juice and zest from G and S Groves and fresh thyme from Pure Luck Farm were added to the whirlpool. It was then fermented in stainless steel with our unique mixed culture of microorganisms consisting of brewers yeast and native yeast and bacteria harvested from the air and wildflowers around our brewery in the Texas Hill Country. About six weeks into the fermentation, we added more peeled and grated raw beets, orange juice, and orange zest. Finally, the beer was naturally carbonated by refermentation in bottles, kegs, and casks. Mixed culture fermentation is a very slow and patient process, so while Hibernal Dichotomous is evocative of the winter, its release comes in the spring.
Hibernal Dichotomous is 4.9% alcohol by volume, 29 IBU, has a finishing gravity of 1.002, and was 3.5 pH at the time of bottling.
Hibernal Dichotomous will be released at Jester King Brewery on Friday, March 27th when our tasting room opens at 4pm. It will be available by the glass, as well as to go in 750ml bottles ($12, limit 4 per customer per day). Approximately 3,500 bottles are available. While the first batch of 2015 Hibernal Dichotomous is unlikely to be distributed beyond Jester King aside from special events, we have a second batch currently fermenting, which will be distributed in Texas by our friends at Flood Independent Distribution.