Stone Brewing Co. Releases 2015 Stone CHAI-SPICED Imperial Russian Stout
(ESCONDIDO, CA) – Each spring, craft beer enthusiasts actually look forward to encountering the IRS—Stone Imperial Russian Stout, that is. A rich, hearty beer that emphasizes the roasty, chocolaty essence of dark malts, it stands out from Stone Brewing Co.'s typically hoppy stock, with a smooth, velvety body that's tasty when fresh, yet also perfectly suited for long periods of cellaring. And there is more to look forward to this year: As part of Stone's "Odd Beers for Odd Years" program (AKA another excuse to brew something new and creative), the California-based brewery is releasing a version infused with tea and spices, 2015 Stone CHAI-SPICED Imperial Russian Stout, alongside the classic version of this annual release. Starting today, the pair will begin arriving in 22-ounce bottles and on draft at bars, retailers and restaurants in markets where Stone beer is sold.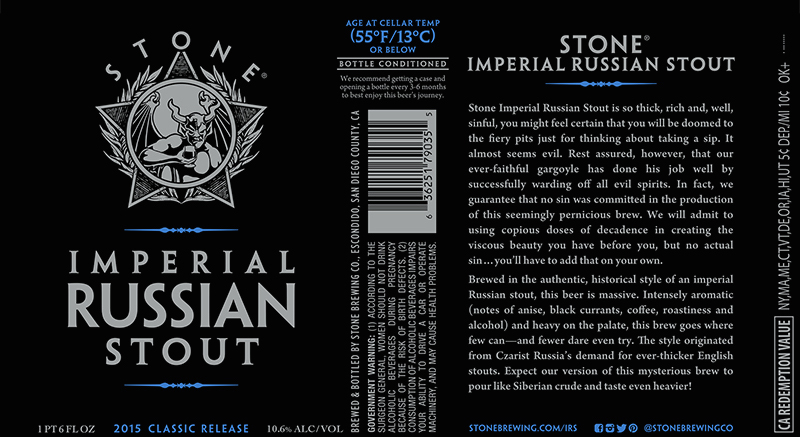 Conceived by Stone President, Co-founder and original Brewmaster Steve Wagner in 2000, the recipe for Stone Imperial Russian Stout has been tweaked very little since the beer's debut. Black malt and British roasted barley in the grain bill give the resulting beer an opaque black color and a roasty aroma. Intense bittersweet cocoa and coffee flavors give way to hints of anise and dark berry fruitiness. Enjoy, but exercise patience—as the stout warms, its bouquet unfolds, the texture becomes smoother and roasted qualities strengthen.
"Steve developed a fantastic recipe for Stone Imperial Russian Stout, which has become something the brewing team looks forward to making every year," explains current Stone Brewmaster Mitch Steele. "For the 2015 'Odd' recipe, we wanted to incorporate chai spices, as we loved how deliciously they combined with classic stout flavors in the pilot batches that we previously brewed. We are excited to share this unique and limited special-release beer with our fans."
Inspired by the savory flavors and aromas of chai tea, a blend of cinnamon, cardamom, clove, ginger, black pepper and black tea was blended with batches of Stone Imperial Russian Stout, post-fermentation. The aroma primarily showcases the spice and tea qualities, followed by mild clove and roasted barley characters. 2015 Stone CHAI-SPICED Imperial Russian Stout carries rich cinnamon, ginger and cardamom characteristics, followed by flavors of sweet tea as well as coffee from the base beer. As it warms, cocoa and coffee notes will balance out the piquant tea-and-spice medley.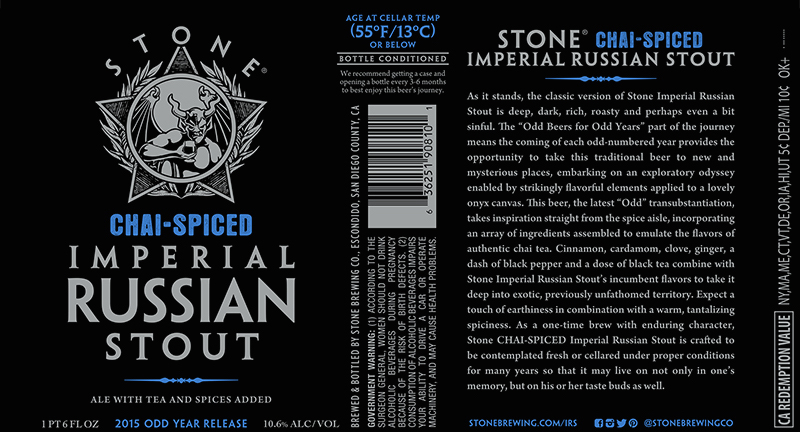 Both 2015 Stone Imperial Russian Stout and 2015 Stone CHAI-SPICED Imperial Russian Stout are ready to be enjoyed fresh, or fans may store them at proper cellaring temperatures (55°F or lower) for several months or even years. The spice and tea qualities from the "Odd" version will mellow over time. As both beers mature, the malt flavors will become richer and more refined.
2015 Stone Imperial Russian Stout Classic and "Odd" Release Distribution
National Distribution: AK, AL, AZ, CA, CO, CT, DC, DE, FL, GA, HI, IA, ID, IL, IN, KS, KY, LA, MA, MD, ME, MI, MN, MO, MT, NC, NE, NH, NJ, NM, NV, NY, OH, OR, PA, RI, SC, TN, TX, VA, VT, WA and Puerto Rico
International Distribution: Australia; Alberta and British Columbia ("Odd" release only), Canada; Japan; Singapore; Sweden; and United Kingdom
Find Beer: find.stonebrewing.com
2015 Stone Imperial Russian Stout (Classic Release) Quick Facts
URL: Stonebrewing.com/IRS
Stats: 10.6% ABV, 65 IBUs
Availability: Limited 22-ounce bottles and draft, beginning March 23
Hops Bill: Warrior
About Stone Brewing Co.
Founded by Greg Koch and Steve Wagner in 1996, San Diego-based Stone Brewing Co. is the 10thlargest craft brewer in the United States. Stone has been listed on the Inc. 500 | 5000 Fastest Growing Private Companies list 10 times, and has been called the "All-time Top Brewery on Planet Earth" by BeerAdvocate magazine twice. The multi-faceted company will be the first American craft brewer to own and operate its own brewery in Europe, and is also building a production brewery and destination restaurant in Richmond, Virginia. Brewing at both locations is anticipated to begin late 2015. Known for its bold, flavorful and largely hop-centric beers, Stone has earned a reputation for brewing outstanding, unique beers while maintaining an unwavering commitment to sustainability, business ethics, philanthropy and the art of brewing. For more information on Stone Brewing Co., please visit stonebrewing.com or the company's social media sites:Twitter, Facebook,Instagram,Google+,YouTube,Pinterest and The Stone Blog.