Hangar 24 Announces New and Returning Beers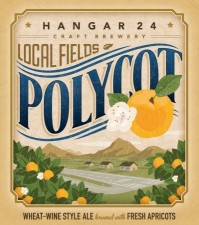 (Redlands, CA) – As summer arrives, Hangar 24 Craft Brewery has three new beers in stores now or on the way, including new editions to its Barrel Roll Series and Local Fields Series. With the seasonal Belgian Summer Ale now on tap and store shelves through August and the Fall Seasonal Oktoberfest due August 10, Hangar 24's Local Fields Series relies upon fresh, locally-grown ingredients and thus, is also dependent upon the seasons.
Six beers return from 2012 in the Local Fields Series, with two new ones being added this year. Also released throughout the year is the Barrel Roll Series, which are limited availability barrel-aged beers, and will see a total of three new entries, one of which was the Barrel Roll #6 – Slow Roll, the 5th Anniversary Ale, which was brewed for that special occasion on May 18.
From Our Fields to Your Glass
The Local Fields Series, which began in 2012, has quickly become symbolic of the philosophy of Hangar 24. Made with local ingredients and using the local community to pit the fruit, the beers are truly born of California and the sunshine that grows the state's flavors.
Essence – Out now. Draught and 22 oz Bombers
Essence, a beer that represents the very 'essence' of Hangar 24 is currently in release. A traditional west coast IPA with a distinct copper hue, Essence is enhanced by generous additions of navel oranges, sweet blood oranges and grapefruit, all grown in Hangar 24's hometown of Redlands, CA. The citrus flavors and aromas intensify the zesty Cascade and Zythos hops to deliver a one-of-a-kind drinking experience. It is an invigorating beer with a pleasant, defining bitterness, perfect for warm weather.
ABV – 8.5%
IBU – 75
Kirschen – Released Saturday, July 6. Draught only
The newest member of the Local Fields series will be a lighter style of beer with a tremendous dose of flavor. Kirschen is a Berliner Weiss, or sour wheat ale, that is brewed with California Bing Cherries, which were pitted by the local community on June 5th. Light pink hues pervade in this traditional hazy wheat beer, and aromas of sharp lactic sourness pair wonderfully with sweet, tart cherries, enticing you to take a sip. Sour and fruity, Kirschen unfolds the flavors of a rich cherry pie in a light, sessionable, summertime classic.
ABV – 3.9%
IBU – 5
Polycot – Released Saturday, July 27. Draught and 22 oz Bombers
Polycot is a wheat beer brewed with hundreds of pounds of organic apricots that returns for 2013. The local community came out for the hand pitting of them on June 15 & 16. Polycot was actually the fourth beer ever brewed by Hangar 24 and released as a seasonal before being incorporated into the Local Fields Series in 2012.
The beer is brewed during the very small window of time when the apricots are at their peak of freshness, which was mid-June this year. The pureed apricots add a wonderful fruit flavor to the beer and combine with the wheat for a refreshing tart finish. This beer goes down smooth, but at over 1.5 times the alcohol of Orange Wheat.
ABV – 7.2%
IBU – 16
A Demanding Maneuver
Barrel Roll #7: Tailslide – Saturday, June 29. Draught only
The newest member of the Barrel Roll Series is Tailslide.
It's with heightened awareness that one attempts a maneuver as daring as the Tailslide, and with equal poise that Hangar 24 brings you this bourbon barrel-aged version of their popular 4th Anniversary Ale. Originally crafted as a doubled version of their alt-bier, with a percentage of barrel-aged stout blended in. This Doppelsticke is now 100% conditioned in barrels to fully complement its substantial caramel malt profile. Abundant whiskey aromatics and spicy flavors blend pleasantly with the delicate esters of this strong ale, resulting in an ambitious balance of beer and spirit.
ABV – 10.5%
IBU – 44
Barrel Roll #7 – Tailslide
Looking forward, one more new entry in the Barrel Roll Series will be released in Late September, as well as a second new Local Fields beer earlier in September.
Celebrating its Hometown Heritage
Redlands 125th Red Ale – Out now. Draught only
Hangar 24 has brewed a special beer in honor of its hometown of Redlands, CA's 125th Anniversary, or Quasquicentennial. The Redlands 125th Red Ale is available on draught at the Brewery Tasting Room and select bars and restaurants in Redlands, as well as the city's "June is Jumpin'" series of events. The red, hoppy ale has a multi-faceted American hop aroma, coupled with a pleasant crystal malt balance.
About Hangar 24 
Hangar 24 Craft Brewery was founded in 2008 in Redlands, California and is widely known for their flagship beer, Orange Wheat. Named after a specific aircraft hangar at Redlands Municipal Airport, where Founder and Master Brewer Ben Cook would hang out after an afternoon of flying to talk aviation, play music and share a few cold ones that Ben just finished brewing at home. The Brewery and Tasting Room were established and still operate in a renovated hangar directly across the street. Hangar 24 embodies a true passion for good beer, the absolute love of flying and the pure enjoyment of being around great friends.